A nice find at the Marin County Guitar Fair this weekend: A Gibson L6-S Deluxe: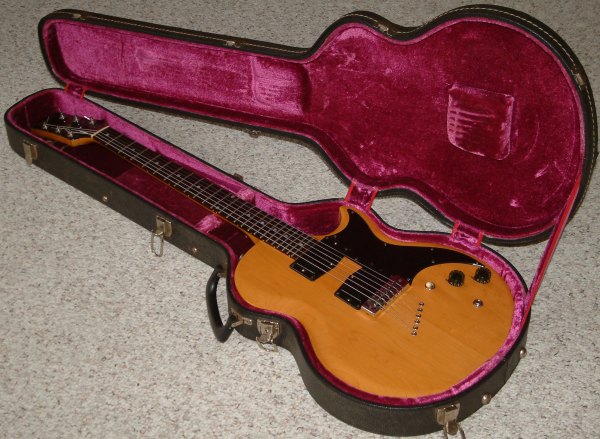 It's got a 6-digit serial number beginning with #96____ stamped on the back of the headstock, along with "Made in USA". Apparently this makes it difficult to figure out what year it was made. If anyone has any insight on that I'd love to hear about it. It has to be 1975 - 80 at the latest.
It's in great condition, and although it's a player, it had obviously been sitting in its case for some years before showing up at the fair. I'm currently trying to clean the (original) case to remove any possibility of mold or mildew. The guitar had a slight musty smell that fortunately is going away after a couple of days out in the daylight.
The rosewood fingerboard drank a glass and a half of lemon oil but now feels great.
The action is nice, the neck is great, altogether a nice find. The Bill Lawrence pickups are fat but with lots of treble. I'm not a pickup expert so I don't really know how they compare to others.
The L6-S is an odd beast. It is has a thin maple body reminiscent of the classic Les Paul shape, but with thickness and contouring similar to a classic SG. I confess I've wanted one of these ever since watching this video:
(That was supposed to start at time 1m 45s into the clip. Sorry about that)