First off.... Erksin, The Great Waldo Pepper, and whoever else frequents this board... you guys did an AWESOME job with this pedal!! I rarely take the time to devote an entire thread to a single pedal just for review purposes - but this one deserves it.
Amp: Gabriel Voxer V18 (Vox AC15 in one side, Marshall JCMish 18 watter in the other)
Cab: 2x12 Emperor (Alnico Blue, G12H30)
Guitar: Benford Dual Cutaway (Porter Pickups - "Clear" humbuckers)
Naga Viper layout: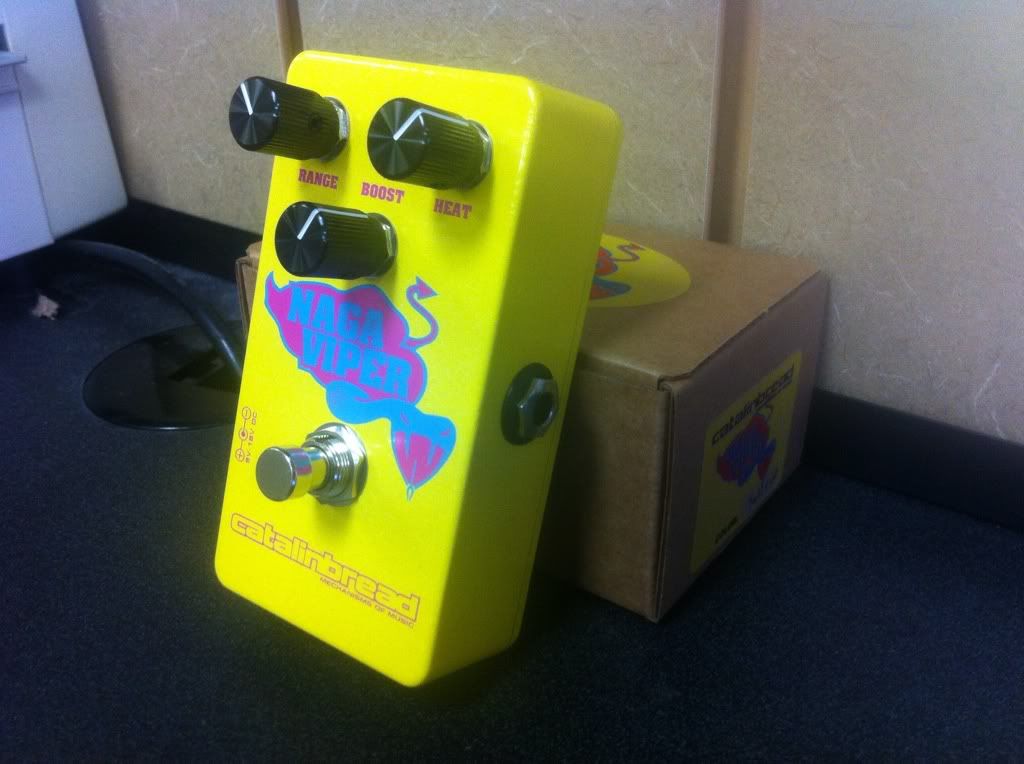 According to the manual...
Range:
This control sets the frequency response of the Naga Viper. For the classic treble-booster response, turn this control full CW ... With the Range set around noon, you'll nd that the frequency response is fairly "at" with a slight enhancement to the treble frequencies. As you turn the Range control CCW from noon, bass frequencies will start to get boosted as well. The way the Range control works is it sets the lowest bass frequency that gets through. The "treble" frequencies are always being boosted.
Boost:
This control sets the output level of the Naga Viper ... You'll notice that as you turn this control you'll hear a slight whooshing or crackle type sound - this is normal and is due to the traditional Rangemaster circuit used for the Boost control.
Heat:
This control sets the gain level of the Naga Viper. At full CCW, you will get a clean boost. At full CW, you will get the traditional Rangemaster response which is a slightly dirty boosted sound that doesn't sound that great into a clean amp but into an overdriven amp it is like magic!
Without even reading the manual at first, I just plugged it in at the front of my chain, set all the knobs at noon, and went to town on the Vox side of my amp which is already slightly past breakup... and right off the bat, I was like
!! Sounded awesome. There was definitely a slight emphasis in the treble/higher string notes, but it wasn't THAT obvious until I played single notes up there. So after playing around with those setting for about an hour on both channels, I decided to pull out the manual. To my surprise, the manual read (I'm paraphrasing) "When pushing an already overdriven amp, we recommend to start with all the knobs fully CW (clockwise)"...
... Clockwise? Like... to 11? Surely not... I mean, how many boosts/dirts/etc still sound good w/o feeding back at an annoying level? Well... I figured the Cbread boys know what they're talking about, so I tried it. And lo and behold.... and I'm not overexaggerating at all here.... it was the absolute sweetest sound I've ever heard (at least that I've played
). Eventually, I found my favorite spot with the boost knob around 3 o'clock, the tone knob around 2 o'clock, and the heat around 2 o'clock. As another reviewer/poster described (
www.thetonechef.com - Why you need a Naga Viper
), it's like adding a 2nd channel to your amp and/or OD pedals. But it's also soooo much more than that - where it really does shine is being a true treble booster. I never thought I'd need one or have much use for one. After all, I'd owned a Keeley Java Boost for a while, and while I'm sure it's a decent pedal in it's own right, I never got along with it that well, and it didn't stack well or push my other dirt pedals like I wanted it to. The Naga Viper is the PERFECT stacker. So even if you run your amp clean and get all or most of your dirt from pedals, the Naga Viper is STILL a perfect fit for your setup. This demo isn't mine (it's from thetonechef.com, and you can see it in that article I linked to earlier), but it perfectly demonstrates what this awesome pedal can do for you:
One of my biggest issues with my sound has been not leaving myself much headroom because I love how my amps sound when they're already breaking up just a tad. I'll use a Timmy and/or other dirts/boosts to give it the extra push to full on overdrive, but I've always had a hard time making my solos stand out because of a lack of headroom. The Naga Viper completely solves this issue for me - while I'll never be able to have a true volume boost because my amp's already past breakup, the Naga boosts the treble frequencies in such a way that causes those notes to REALLY jump out and stand out in a mix. I was absolutely blown away at how well my solos and lead notes stood out - and I've never heard them like this before. Even better? If I've already got the Timmy on doing what it does best (just "more"), engaging the Naga just takes it to a whole new level of awesome.
I've only had this pedal for a few days, but never before has a fricking boost/dirt pedal motivated me to play this much - I never had an issue with wanting to play before or anything, but this just gives me the urge that much more. Want Brian May sounds? Check. Just crank up your AC30 and kick this bad boy on and BAM - May in a box.
... but seriously... it's freaking incredible.
The Naga Viper hasn't kicked anything off of my board. In fact, it's done the exact opposite - it's made everything on the board sound that much better. I usually don't stack anything; rarely need to, but the Naga Viper gets along with everything so well, it's a game changer.