Lookie what showed up this afternoon!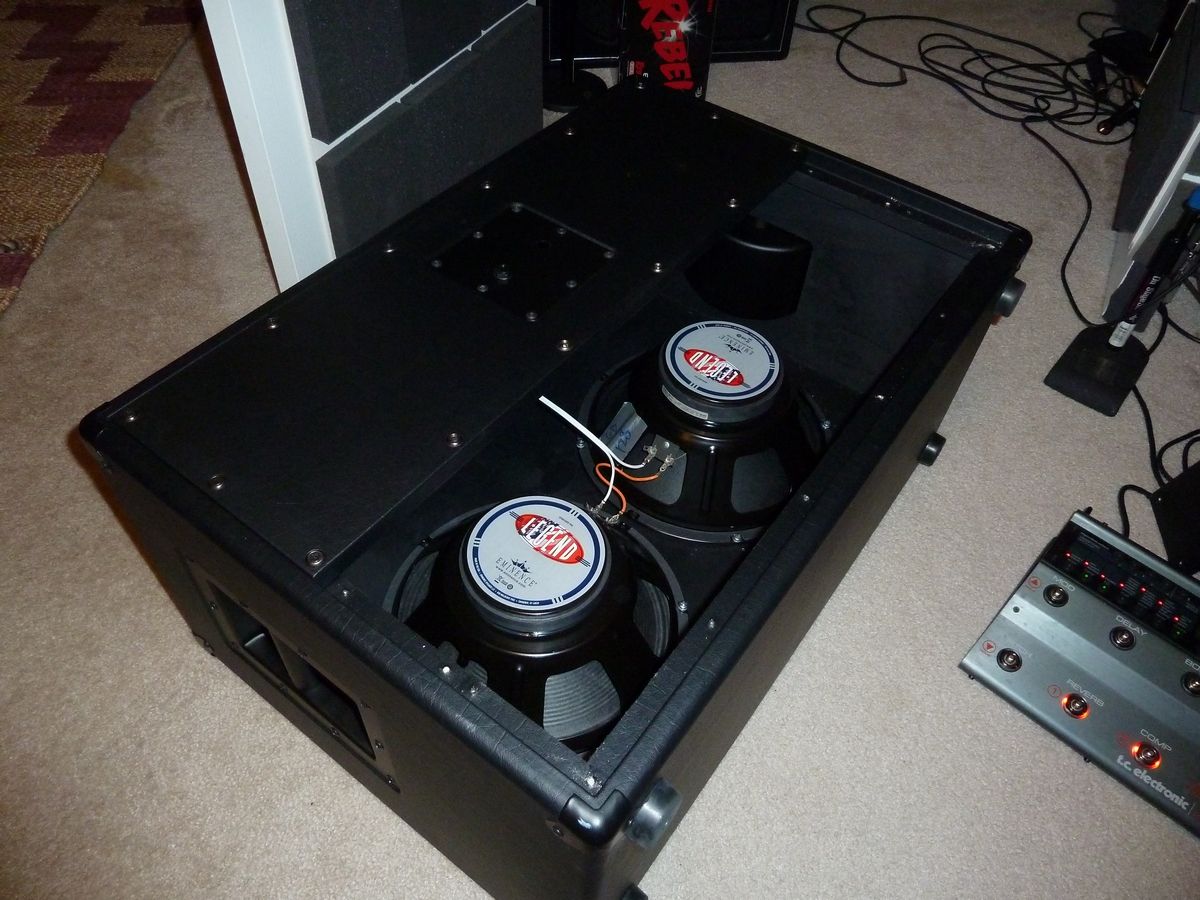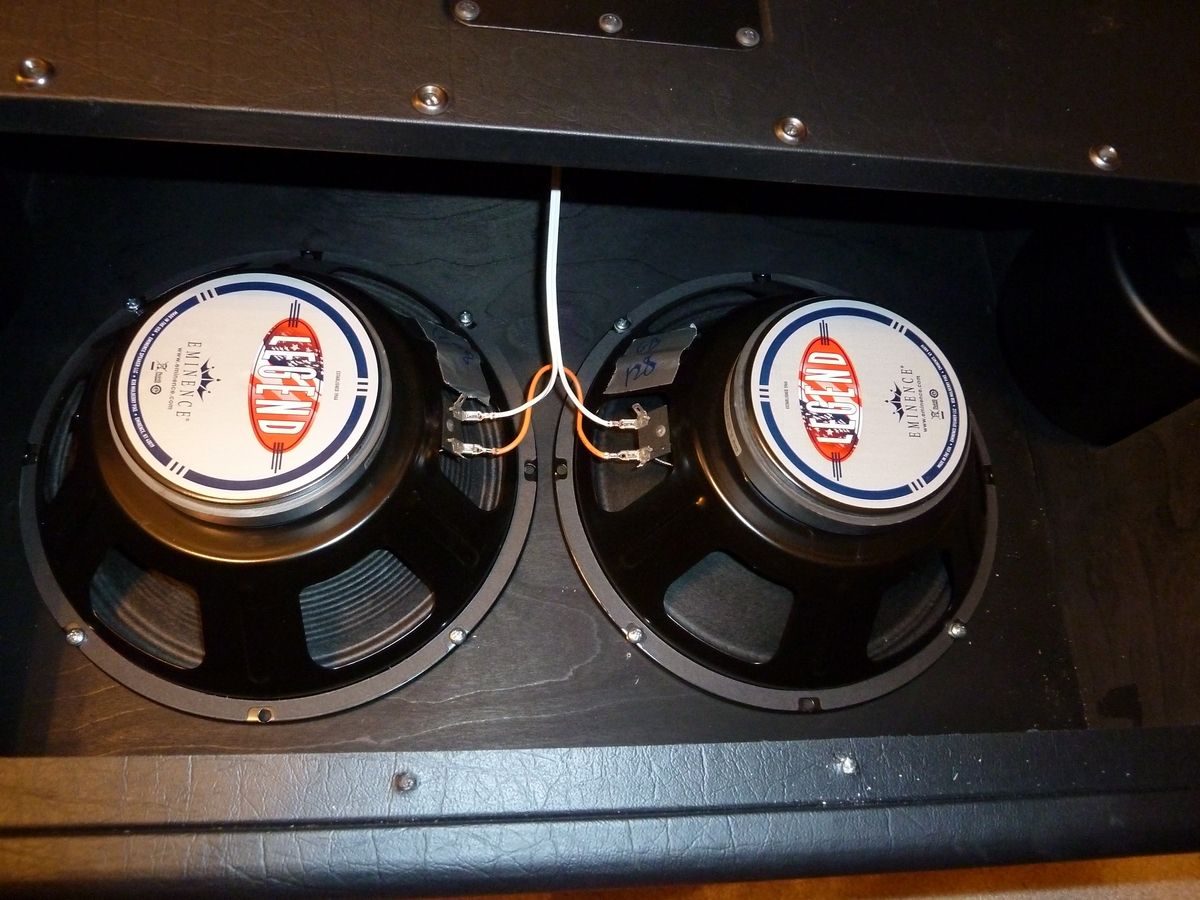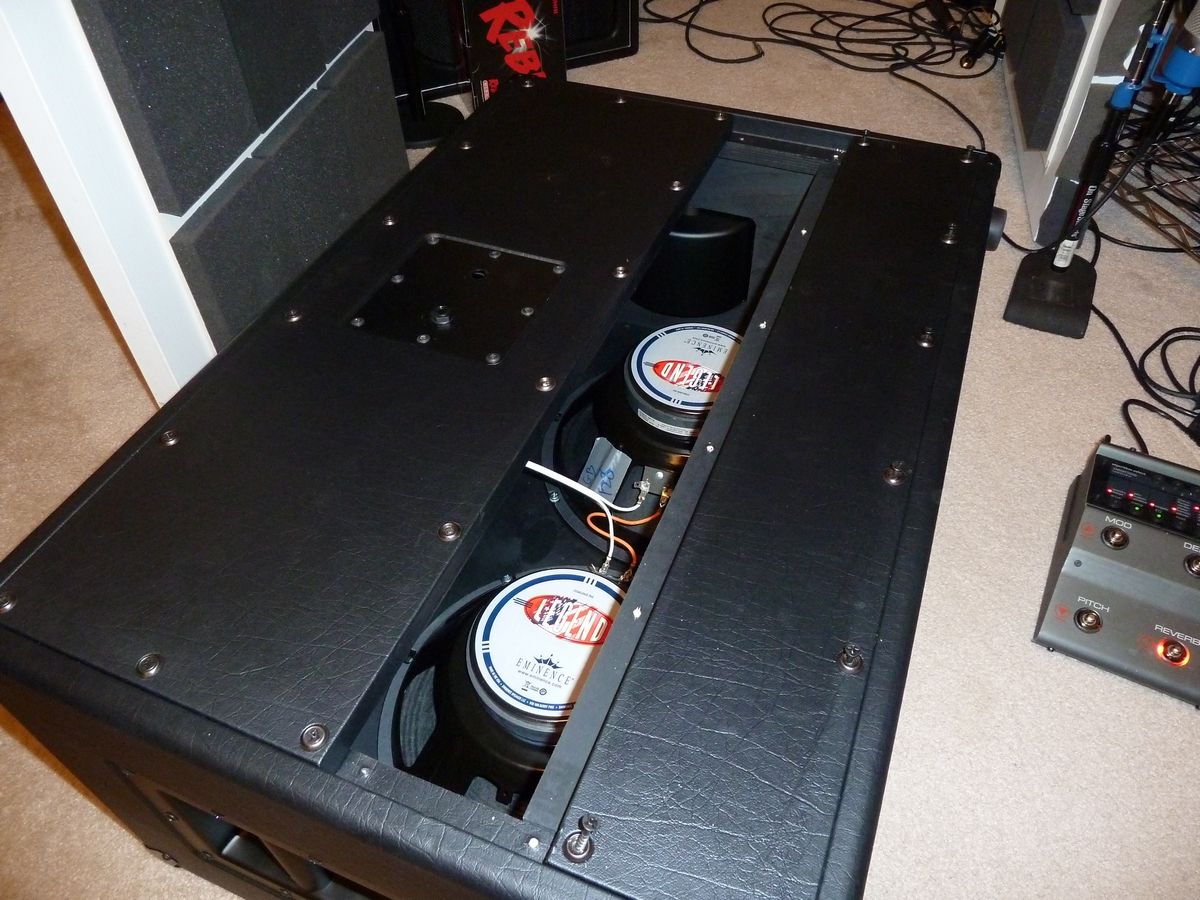 Here's what I think so far:
I wasn't a fan of the legend speakers so I swapped a pair of V30's in and liked those better so that's what is in the cab now.
It's fatter sounding than the port city but the upper end presence that the port city has isn't there in the WB. not to say the WB isn't a cutting or clear cab. It is. It's just got more beef to it.
The beefy low end is nice and clear and clean. Not muddy at ALL. I thought with the JCA's big thick lower midrange that it would be overpowring but it's not. The V30's stay nice and clean.
With the cab fully closed back, it sort of reminds me of an orange 212. It's not as stuffy or boxy/beamy as a mesa 212 and not as loose as a bogner OS212.
After playing around with it closed back, partially open and half open (both bottom pieces removed) I found it sounds the best, at least for now in this room, with both bottom parts removed. So it's technically half open back.
The sound is much more filling as far as the spread through the room and there's no loss of tightness or composure. I had it louder than what I typically use as stage volume and everything was clean as could be. I used the JCA 100HDM for all my initial testing and it sounds AWESOME. All the amps do to be honest but again... it was only after I put the V30's in. Those legends just rubbed my ears the wrong way...
BUILD QUALITY
So far I'm impressed with the build quality. Everything is 3/4" plywood. Corners are re-enforced with a strip of 3/4" plywood, tolex appears to be virtually identical to the stuff Mesa uses, good quality screws rear mounting the speakers with T-nuts stuck into the front of the baffle for the screws so they're not mounting in the bare wood (CARVIN!!
) It's 19x29x13 inches in size and it's about 66 lbs so it's not a lightweight.
So that's my initial review of this thing. We have a week or so before our next show so I've got more time with it here at the house before it hits the stage for it's real test. Till then, I'll do some videos and I've got a few sound clips just messing around with it.
It's obviously fairly difficult to accurately capture the essence of a cab with a mic. I can give you what the speaker sound like but actually portraying what the sound in the room sounds like is fairly difficult. So far, I'm playing with room mic positioning and have found a decent spot I think for the CK1 and doing a 70/30 blend with 70% of the mix the room mic and the other 30% direct mic with the Apex205.
I haven't got any "real" recordings done of it yet. Just a couple of clips of me noodling around.
http://www.netmusicians.org/files/88-whitebox1.mp3
That one was done with the JP6 and no room mic'ing at all. just the speaker and a little reverb in the loop.
http://www.netmusicians.org/files/2-Whitebox_LongTest.mp3
The long test, I didn't actually intend on uploading but it turned out ok so I figured why not. I used the Tokai for this one and went through the clean channel with some FX from the nova system then to a mild gain (9 o'clock) on the lead channel then bumped it up bit by bit.
No boost used on any of the clips.
I also dusted off the Carvin C66 and did a video doing improv to "blue on black" using the neck pickup split coil, fairly low gain on the amp and the CM2 boosting occasionally.
Plenty more to come this weekend!
My final thought for now though is that it's every bit as good as the $700~$800+ 212's on the market. I think it (personally) sounds better than the mesa open back lonestar 212 and the smaller closed back 212.
I've only heard a splawn 212 very briefly but as much as we hype those as well, I think that this is on par with it too.
So so far, this is shaping up to be a real major player in the lots of tone for not a lot of $$ cab. I see it similar to how splawn builds their stuff in house and sells without the retailer's mark up. Only Doug is offering any eminence speaker and a few different celestions? So far, it looks good. We'll see what I come up with this weekend and if I have time, I'm going to take it to our local boutique store with the bogner, engl and diezel stuff to see what it does vs those.
And you can't un-see the Pringles mustache in the logo