Positive Grid's Bias Desktop
(just the power amp stage here below)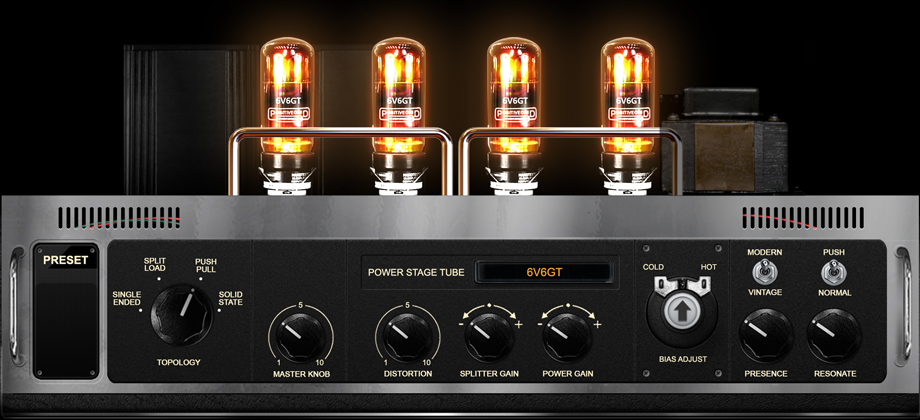 First off, I'm a recording guitarist. Professionally I was a bassist, so I did not grow up studying guitar amp tubes, speakers, rectifiers, guitar cab types, bias, etc . I did grow up playing with and listening to guys that did. I know what I like and can describe it in fine detail.
Amp sims get me close, Guitar Rig being the most mailable to my needs thus far. Until last night after downloading the 79 buck Bias.
They tout its ability to swap tube types, control bias, eq into and out of the pre stage, the tone stack stage, the power amp stage. If the lows are soft like you need but just a tad too saggy in its overdrive characteristic, the simple, short, direct and amazingly informative manual will let you know the fix.
Want multistage gain a la Gilmour without the one dimensional modern blown out feel and tone? Want a little Fender sparkle peeking through that gainy lead? A little low end thump on your attack while the glass still shines through? Like I did last night trying to get a little Comfortably Numb on a track?
A little learning and tube, rectifier, etc. swapping and you'll get there. Dig the distortion but it's just a little fizzy? Leave the pre's tone controls alone and de-emphasize the highs heading into the tone stack. On and on.
These aren't just cool graphics with knobs that sort of do something. This really is an amp. Very real. Preset guys might want to pass on this one, but if you know what you're looking for... Presets just never work for me even after edits, since I favor an oddball Yamaha semi hollow body with P90s. They don't make presets with my guitar in mind. But Bias lets me find that perfect amp marriage for it in what's appearing to be any needed context.
warning, the online demos favor shred. Not my gig. But this software is.
try it! I'm sold.
http://www.positivegrid.com/bias-desktop/