Let's start a thread that will be the "MOTHER" of all fuzz threads!!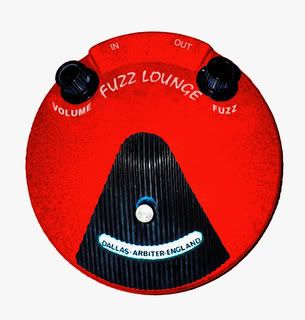 I've noticed that there's quite a few number of guys in the forum, who loves to talk about your favorite fuzz pedals, fuzz recordings/bands, and even fuzz pedal makers and their magical creations!
DUNLOP FUZZFACE The one that I got was really bad, it was stuttery when you play power chords, the tone and feedback was there, but at the time I wasn't happy. I have found some modding tips on the net, and asked an electrician friend to do the mod for me. Be aware, that the earlier Dunlop's are easier to modify (90-98) than the later ones. You really have to go and try almost each one that the store has just to find the right one. They all have different tone characters!
P.E. EXPERIENCE PEDAL I bought this pedal mainly for the swell/backwards guitar effect but, it's really more of a volume swell effect, than a backwards guitar tape effect (a lot of experimentation, just to get that backwards effect). The fuzz was loud and mean sounding, almost distortion-like. Reminded me of my russian made black big muff fuzz . The Octave effect in it is one of the coolest out there. If you can find a use for it, it's a cool pedal! This pedal was used by Charlie Sexton on his "Under the Wishing Tree" album. Try to find one with the LED. You'll be glad you did.
ROGER MAYER CLASSIC and AXIS FUZZ The first and the ultimate guy who makes "fuzz face clones" and directly worked with the fuzz face man himself (Hendrix). You would expect nothing, but the "Holy Grail" right? Well, not really imo. The CLASSIC was almost identical to my old Dunlop. The AXIS on the other hand was not bad, it sounds tighter than the classic, I really liked the tone of that one but, I realised that it sounds just like my modded hybrid germ/sil Dunlop fuzz! The only claim that RM pedals that really impressed me was, you won't pick up radio frequencies when you turn your guitar's volume down (specially with silicon). The RM fuzzes are also a bit expensive. The only cool thing, IMO is the rocketship casing.
FULLTONE '69 Here is a pedal that everybody loves (or used to) The first time I really got into the perfect fuzzface clone search (1999-2000), all I heard and saw on the internet was this pedal. I have tried it on many different occasions, twice in the store and once in a jam. I have convinced myself a lot of times that this pedal is "the one", but it never really worked for my taste. To me, it sounded tame and doesn't have enough fuzz/gain to boot. I have a Fulldrive, and really liked the "Soul Bender" which I think is Fulltone's best fuzz pedal. (although not a fuzz face)
FULLTONE '70 Now this pedal is the "Band of Gypsys" pedal that it claims to be. It's really good and aggressive silicon sounding fuzz. Although a lot of guys are now raving about the new blue version. (A LOT OF PEOPLE ARE RAVING FOR THE NEW BLUE VERSION which I believed Fulltone updated, NOT THE PURPLE ONES)
DAVE FOX FUZZFOOT A few years ago. I heard about the Captain Coconut (now discontinued) so I checked out the site, and heard a clip of the Fuzzfoot. I was blown away! "I got to have that Fuzz". I e-mailed Dave Fox, and he's a great guy to deal with. The man answers all your questions, the guy treated me like a Rock Star! He made me a one of a kind hybrid Fuzzfoot that I really loved. And he just came up with the new fuzz card idea. So that, any fuzz-nut can pick a fuzz card of his own liking. A really cool concept. Details of the fuzzfoot on his website www.foxroxelectronics.com
80's REISSUE FUZZFACE I have tried one of these, but I find it harsh sounding and not enough sustain to boot. They were also made by the young Dave Fox. It's better to get the Fuzzfoot instead IMO.
MJM LONDON FUZZ www.mjmguitarfx.com I guess some of you might have heard and bought the "London Fuzz" from all my postings about the London Fuzz in here and on musictoyz and others. IMO, the best repro of a great sounding Dallas- Arbiter Fuzzface. Big, bad and deep fuzzface tone! Plus, a top-notch guy to deal with! Creamy fuzz tones. IMO, nails early Hendrix, Eric Johnson and Cream.
MJM LONDON FUZZ II (silicon) Has a bit more sustain than the germanium loaded London Fuzz. But, like most silicon fuzzface it's a bit noisy with radio stations and all, when you turn down your guitar's volume knob. It sounds meaner and more agressive than the germanium London Fuzz. Very later period Hendrix fuzz tone. Fuzz Face afficionados loves this one. Raw Power!
2004-05 ARBITER-ENGLAND FUZZ FACE RE-ISSUE It looks like the real thing and just like the original Abiter Fuzz Faces it has some consistency issues. I would recommend to try each one before you buy. The one that I got didn't have enough fuzz/gain. I would stay away and get a good fuzz face-clone instead. Get one, if you like the original Fuzz Face look (and this one done by the original maker).
BIG MUFF (Black Russian) It has a big, too processed, thick sound. The box is way too big and takes up too much space on your pedalboard. Can't really find a good rhythm sound out of it unless, you're into some cheesey 70's metal sound. Very much a Distortion pedal IMO. GRUNGE galore!
BIG MUFF (USA) So much better than the russian ones, IMO. The tone knob reacts so much better, you could really dial different tones out of this one, than the rusian ones. Also, it looks cooler because of the classic Big Muff graphics, just like the old ones from the seventies. The first ones that came out didn't have true-bypass. I believed that the newer ones do.
ZVEX FUZZFACTORY www.zvex.com Fun, fun, fun is all I can say about this little monster. If you are rich enough to keep one for your collection, a "must-have" for every Fuzz Nut, but you might find it hard to get a consistent fuzz tone. It changes all the time, with different situations, amps, pickups, guitar, volume, etc..But still fun!! Might be a really cool experimental tool for recording. I just hate it when I find a cool tone, a day later, it won't be the same. Goodluck on taming this little monster live...
MJM BRIT-BENDER (2 knob) I've always liked the Fulltone Soul Bender, but compared to this pedal the Soul Bender sounds thin in comparison. You want a great Bowie-era Mick Ronson, early Jeff Beck and Jimmy Page? It's like a fuzz face with more balls and razor blades added. Look no further. True, Tonebenders are like Fuzz Faces on steroids!
MJM BRIT-BENDER (3 knob) It's a MK II Sola Sound Tonebender clone just like the Fulltone Soulbender. Tonewise, it's almost identical to the Fulltone. But, I find the tone knob on the Brit more responsive. The other difference that I noticed compared to the Soulbender? The SB sounded bassier and louder.
MJM FOXEY FUZZ Now this is what a Big Muff pedal supposed to sound like big, fat , sweet singing sustainy fuzz. You can dial Siamese Dream-era Smashing Pumpkins and even Santana-esque solos. People who are looking for the great sounding Big Muff would love the Foxey Fuzz.
NVN NIRVANA FUZZ One the coolest looking fuzz box around. If you want the most tweakable fuzzface type pedal, look no further. It can also be used as a mild overdrive or balls to the wall fuzz, that has a bit of distortion-like character to it (think "RAT" pedal). I can only describe it as.. "a great silicon sounding fuzz face with the combination of the regular fuzz setting from a Zvex fuzzfactory with the addition of the RAT pedal". And it works very well with a wah pedal! (discontinued)
SUSTAIN PUNCH CREAMY DREAMER I've tried this fuzz bomb. Never really cared much for it. Very later period Pumpkins fuzz like what it claims to be. A little too processed for my fuzz taste. Sounds identical to my old black russian Big Muff. I actually heard that it's a clone of the black russian Big Muff with the added small casing and true-bypass switching. There was so much "hype" on this pedal at the time. Because it was hyped as "the fuzz that Billy Corgan used" on the Smashing Pumpkins album "Machina".
VOODOO LABS SUPERFUZZ To me, it's more of a fuzzy/overdrive pedal! Very nice. Can be used as a very decent overdrive pedal. You can also dial some decent distortion tones. I use this right now as an extra gain stage working with my main overdrive (MJM Blues DEvil). Don't be fooled by the SuperFuzz name, because it is NOT a clone of the Univox Super Fuzz, but still very cool.
MJM CHINA FUZZ Want a Super Fuzz clone? Here's your answer! Just like Townshend's lead tones in "Live At Leeds". It offers 2 great sounding fuzz tones with a click of a footswitch. Playing notes around the 12th fret gives you an Octave effect.
ZOOM ULTRA FUZZ You can get this fuzz very cheap nowadays and IMO it's totally worth it! I call it a "Poor Man's Fuzz factory". It does the cool oscilation thingy and can get some really cool distortion-like tones! Even the store clerk couldn't believe that while I was playing it. He can't believe that the pedal can make all those sounds. Try it out!
LOVETONE BIG CHEESE IMO, a classic "boutique fuzz pedal" I wished that Lovetone would make cool pedals again. It has lesser fuzz effects than a fuzzfactory but every tone that you would get with this pedal is GOLDEN!
ARBITER FUZZ FACE (reissue with analogman mod). I traded my first one, and got a new one with the analogman mod. Now this one sounds great. Gobs of fuzz to boot. And very cutting. Very promising specially it's only a modded version. I'm sure that the analogman Sun Face is better! Now on my pedalboard!