Forte 5 Notation Software
By Chris Loeffler
Like the benefits authors enjoy writing when they moved typewriters to word processing software, composing music in the digital space offers many advantages to song writers- parts can be instantly moved around, keys changed, and good old "Copy-Paste" are all time savers. However, as with most new tools there is a learning curve to any software package and there are times where the effort it takes to master the tool is greater than the benefits and time saving it will bring down the road. Forte 5, the newest release from the Forte composition software team, claims inexperienced composers regularly have their first composition complete within ten minutes of the first time they load it. That is the sort of statement that should perk the ears of people looking to get their feet wet with composition but not willing or able to spend hours learning a new program.
Forte is available in four software suites, Forte Free, Forte Basic, Forte Home, and Forte Premium, with each suite upgrade bringing more functionality to the core package. Forte Free is the freeware package and allows for one stave, two voices, and a single lyric path. Forte Basic, the entry level paid suite, doubles the staves and lyric count and adds MIDI compatibility for step-time entry and the like. Forte Home quadruples the amount of available tracks, adds compound meters and pickup measures, and is pretty much everything a composer needs to document combo and small symphony scores.  Forte Premium is the end-all in composition software feature sets, including enhanced sonic quality and VST plugins through the Forte player, 32 simultaneous tracks, four voices, 16 lyric verses, part extraction, and enhanced import/export options.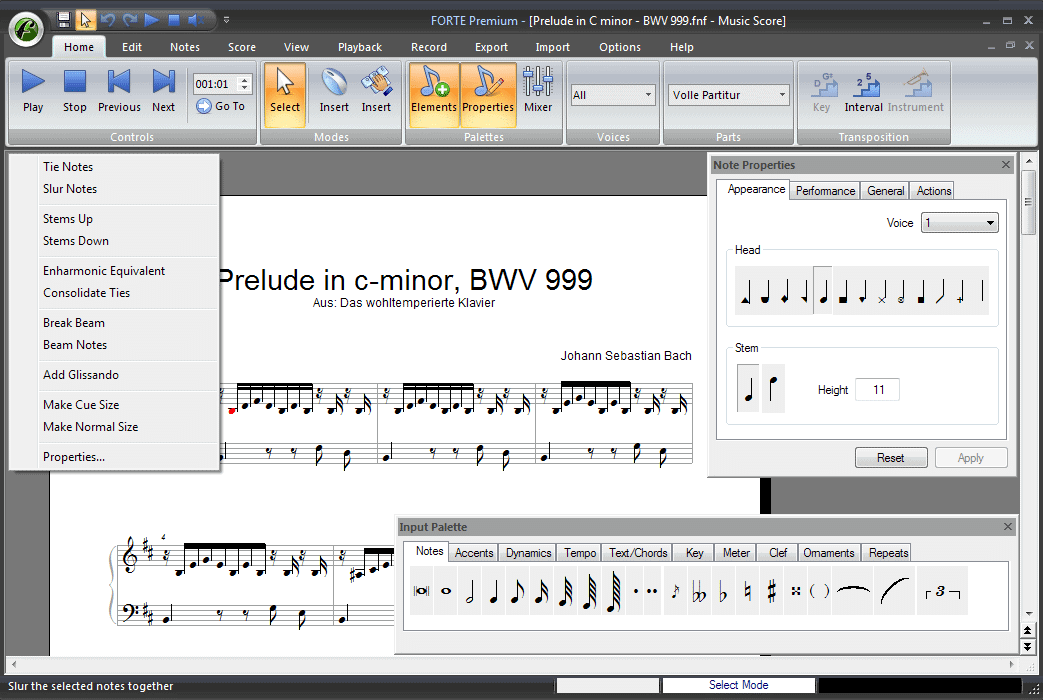 What You Need to Know
Forte features a powerful Score Wizard or one of 32 templates that will meet the needs of composers looking to jump right into the software immediately after install. Blank scores and customizable templates are also available. All relevant score information (such as song name, composer, etc) is collected at the beginning and there are three score styles available in wizard mode- Classic, Hymn, and Pop/Rock/Jazz. Once the title and score type are selected, composers choose instruments to be included in the score from a list of nearly 100 preloaded instruments (custom instruments can be added) as well as the time signature, tempo, and key of the song. Composers can choose between standard notation or tablature for guitar parts (you know how us guitar players are), and all tracks follow the appropriate notation standards for their instrument.
Notes are captured and placed via a MIDI keyboard, via simple mapping on a computer keyboard, or dragged and dropped via mouse from Forte's exclusive Music Ruler. Grabbing and dropping notes and rests from the Ruler (1/8th notes, whole notes, and every type in between) is easy, and skillful mouse use completely eliminates the need to place rests. Each placed note produces the audible pitch and note duration for instant feedback and as a helpful indicator that the intended note was indeed what the user placed.
Each instrument being scored can have one of over 100 virtual instruments applied to it within the Forte program for audio playback, which is incredibly helpful in reviewing what has already need laid down and a potential tool for inspiration when trying to decide what to do next. It would be a stretch to say the instruments sound real, but they are certainly authentic enough to not be distracting and represent the various colors different instruments contribute when there are multiple playing simultaneously.
For such a deep tool, the Forte interface is incredibly clean and intuitive. Everything a composer could want access to is within one level of the top menu, with about 80% of the functionality one would regularly want access to directly available and visible without needing to click into the menu. In addition to being able to print or email the composition files, finished pieces can be exported via MusicXML format or as a MIDI file. Exporting the MIDI file into a virtual instrument such as Native Instruments' Kontact opens up possibilities to apply studio-quality virtual instruments to the composition piece for an even more authentic sounding audio demo.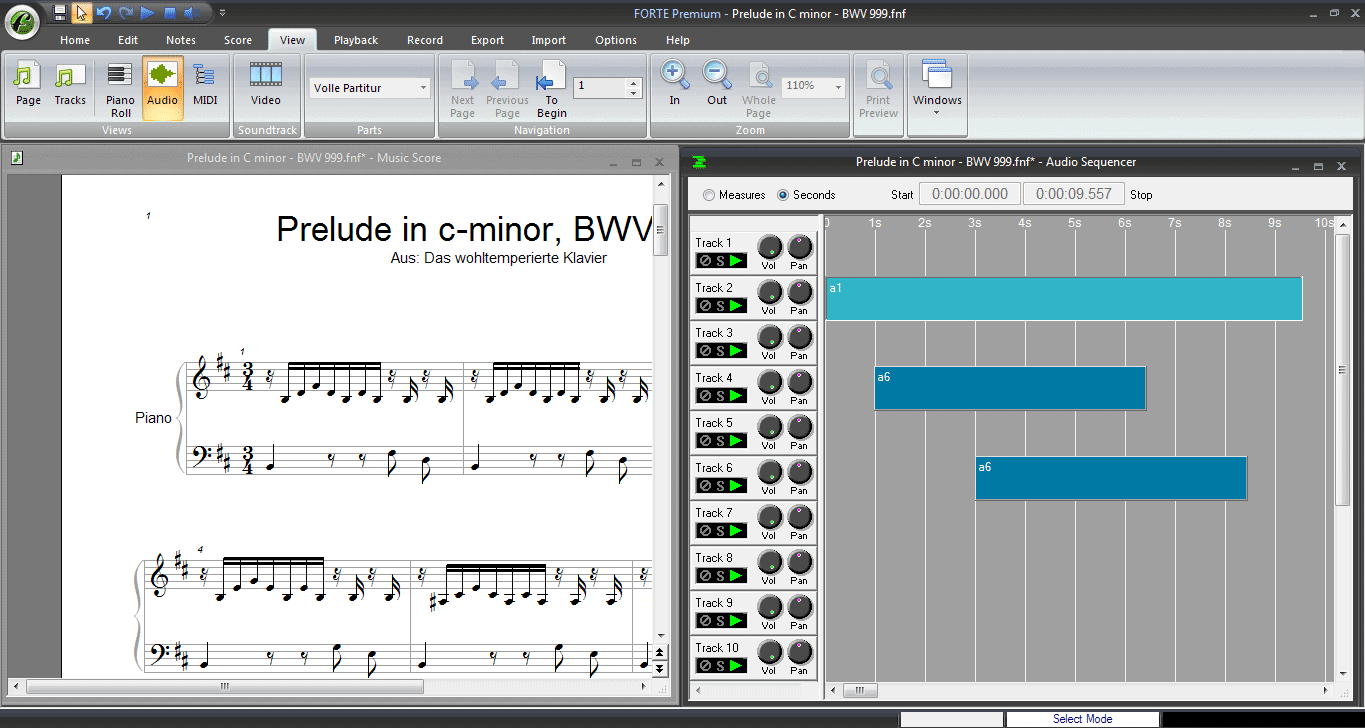 Limitations
The freeware and basic versions of Forte are enough to get a singer-songwriter by just fine, but even they will eventually want to upgrade to Home or Premium, as that is where the power and flexibility of the software truly makes a difference.
Conclusion
While the Forte 5 suites of compositional software won't teach you how to compose, they are so easy to use and intuitive that they make the composition (and documentation) of songs a breeze. Forte has done an excellent job of making the potentially overwhelming number of options cleanly and logically organized without distracting novice users. The benefit of being able to compliment a printed version of a song or composition with an audio recording of it at no additional effort alone is worth the price of admission.
Resources
Forte Notation Options (Street $24.00-$239.00)
Chris Loeffler is a multi-instrumentalist and the Content Strategist of Harmony Central. In addition to his ten years experience as an online guitar merchandiser, marketing strategist, and community director he has worked as an international exporter, website consultant and brand manager. When he's not working he can be found playing music, geeking out on guitar pedals and amps, and brewing tasty beer.