The single hardest part in this build project is the unique bridge cover...and it's a purely cosmetic part,
completely
unnecessary to the function of the instrument, but being an artsy-fartsy guitar designer, I wanted it to be on the guitar so Marco has dove right in and figured out a way to make the thing, but not without a few problems along the way.
His first efforts to make the stainless sheet steel bridge cover for his Marz 6 met with a few wrinkles, literally...
Here's the Marz 6 body artwork that shows the bridge cover...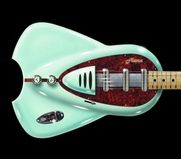 Anyway, here's Marco's handmade press used on the first try to form the cover...
It wasn't quite right and wrinkled the Sheet stainless....
After some experimentation, the sheetmetal was forming well, but it was just a bit too small to fit over the bridge...here it is next to the first prototype bridge cover Marco made from composite material...