Someone said that you can use a TRS cable from a mixer's insert jack to an interface's input, and that'll send the signal back to the mixer. I said no, the typical way is to use TS cable and plug it halfway in (which also works for TRS cable, R conductor isn't used) or else use an adaptor that shorts T and R at the mixer end. I explained what would happen trying to use TRS cable to an unbalanced input. I said I wasn't sure what would happen for a balanced input, but that it sure didn't seem right.
He replied back by stating what gear he used Tascam US800) and which inputs worked (the balanced ones).
Can anyone explain how this would work? I don't know what the circuit is for a balanced input, but I would have expected a high impedance between T and R contacts -- between "hot" and "cold" inputs (or + and - inputs, if you prefer, which I do.)
Take this circuit, for example: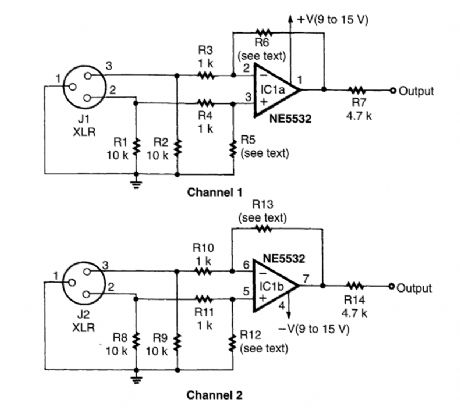 I'd expect a high impedance between the two input pins on an op amp! So how could his setup possibly have worked?
I found some helpful stuff at
http://www.douglas-self.com/ampins/b...d/balanced.htm
which shows a few schematics that might send a (much attenuated) signal back along the path. For example, the variable gain balanced input in Fig #11 might send a signal back, and the strength of that signal would vary as you adjusted the input gain on the recorder (!) The "superbal" configuration in Fig #12 also might send back an attenuated signal. Might that be what's going on?
He said he used a Tascam US800; the front (unbalanced) inputs didn't work, but the back (balanced) inputs did.
Thanks!