Up for sale we have the following (
all prices ARE negotiable
):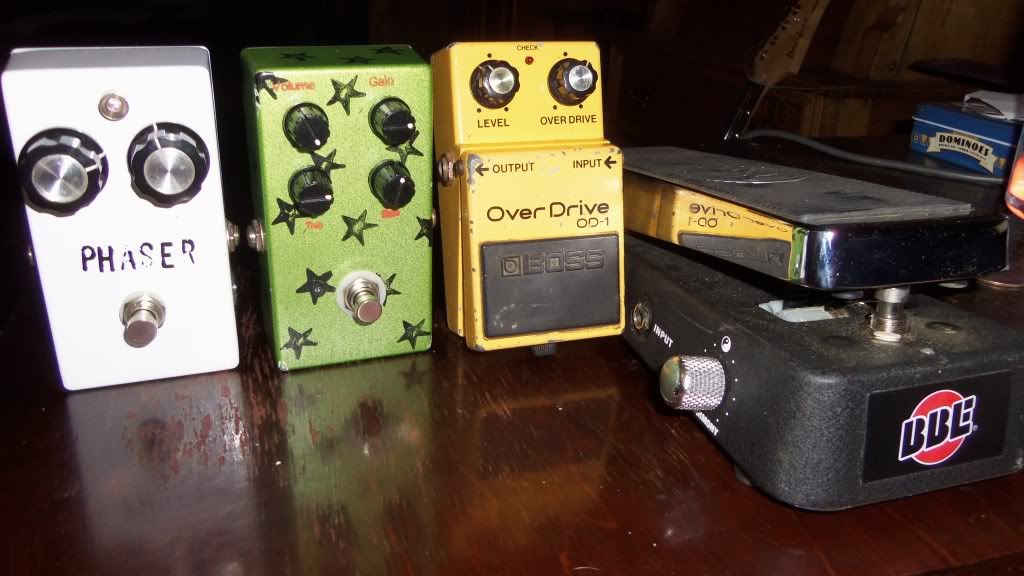 On the left, a Phase 90 derived phaser, with an added depth knob.
$80 shipped.
Does the slow, deep phase and the rotary-esque stuff equally well, and has served me well playing live for over a year now. Built by local builder Sean Ryan Custom.
Next over, a Colorsound Power Boost/Overdriver clone, also by Sean Ryan Custom.
$100 shipped.
Massive clean boost to fuzzy overdrive to full-out fuzz; mainly designed to boost a nice tube amp into overdrive though, and with the added advantage of very powerful treble and bass controls. I've never been able to use it to its full potential, unfortunately, and I don't think I will in the near future, so all the better for you folks.
Next over, a Boss OD-1 Overdrive.
$180 shipped.
A favorite of Pete Townshend, I believe. Exceedingly tweedy in character, not particularly smooth in the same way a Tubescreamer is. Just a really nice sound. Discontinued since '85.
On the right, a BBE Wah pedal.
$90 shipped.
Based on the vintage Vox wahs, with an added Q control on the side and (very importantly) an indicator LED. Does the David Gilmour "seagull" thing when you plug it in backwards, so it is indeed a vintage-correct circuit. A really nice wah.