The First Amendment gives people the right to speak their minds, within reason.
But it does not protect someone from ruining his or her own business by making
a fool of himself or herself. Here are a couple of examples:
Pro-Trump, Anti-Global Warming Facebook Post Leads to Restaurant's Closure
Cup It Up American Grill in Tuscon, Arizona was forced to close just 72 hours after its controversial post went sideways.
The origin of that often quoted, often
misquoted
phrase about pleasing "some of the people all of the time and all of the people some of the time" has been debated and disputed, but there's one thing we can all agree on: whoever said it clearly lived before the arrival of social media. Facebook posts—especially politically charged Facebook posts—are a fantastic way to illustrate that you surely
won't
please all of those people, and will likely piss a lot of them off. Just ask the owners of Arizona's Cup It Up American Grill, who were forced to close their restaurant just 72 hours after a controversial post went sideways.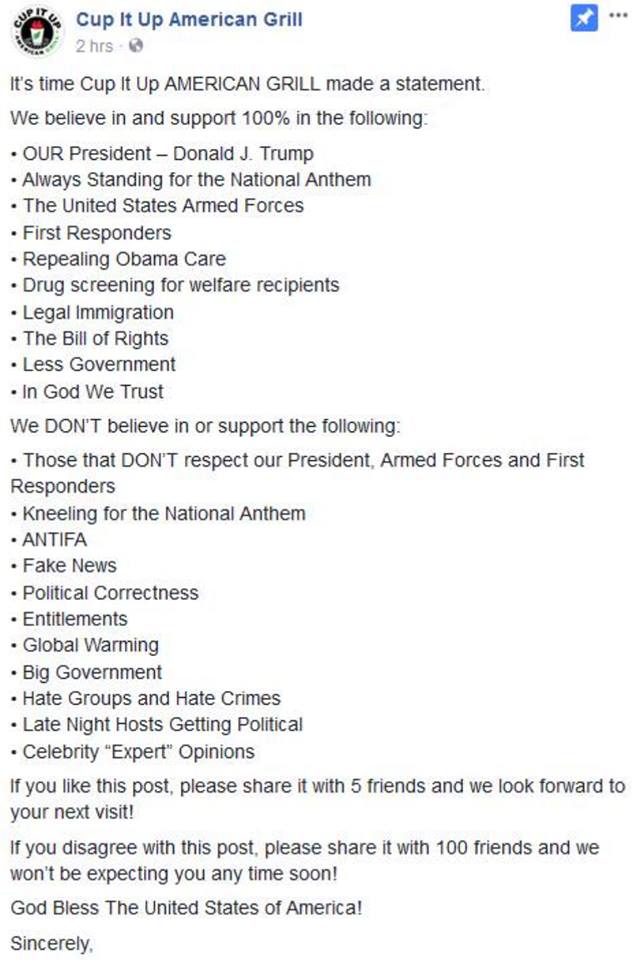 source:
https://munchies.vice.com/en_us/arti...%3Dsharebutton
The reaction from would-be patrons of Cup It Up was swift, negative and in some cases, threatening.
As a result, several members of the staff quit, rather than being subjected to the ire of the public and
the restaurant closed down after only three days.
If that's not enough proof that social media can ruin a business, consider the results of a woman
calling herself "Sophie CK," who used to be the manager of the White Rose Coffee House in
Lynn, Massachusetts.
Ms. CK postes this lovely little note on Facebook:
And this one...
And if that's not enough to get your blood boiling to the point of needing a triple skinny shot of
skimmed milk to cool it down, try this exchange:
"...people collecting wealth and legal slaves for the state, and at worst, killers?"
Colin Kaepernick, she is not.
It gets worse from there, but you get the idea. Needless to say, the owner of the shop -- Ms. CK's mother --
has fired her, at least for the time being, while Mum tries to clean up darling daughter's mess. And maybe
teach her brat of a daughter some manners.
For more on that story, go here:
https://turtleboysports.com/lynn-cof...-be-humanized/
and here:
https://www.themaven.net/bluelivesma...REu13ErOVFav-w