I got powered speakers, ditched the power amp, and moved everything into one rack case. I do one-nighters. This simplifies setting up the gear but adds power cables to the powered speakers.
In both the old and the new, I route all the plugs to the front of the rack, so the back doesn't have to be removed to plug the jacks in. Since we run 2 mics, 3 synths, 2 guitars w/amp-sim/direct-boxes, and backing tracks, that's a lot of jacks and plugs.
I feel putting all the jacks on a rack plate also extends the life of the gear. So many pieces of gear have those plugs mounted on printed circuit boards and are bound to cause a bad solder joint sooner or later. Even with a regular plug , they will soon wear out. On the rack plate they are easier to replace.
Old with synth modules on top and power amp on the bottom. Jumper cables go from rack to rack using the plugs on the rack plates. The jumpers on the bottom rack are in the transportation mode, the bottom plugs really go to the speakers and the coiled cables go to the plugs right above. The blue cable goes to the computer's USB port.
New (isn't this an improvement?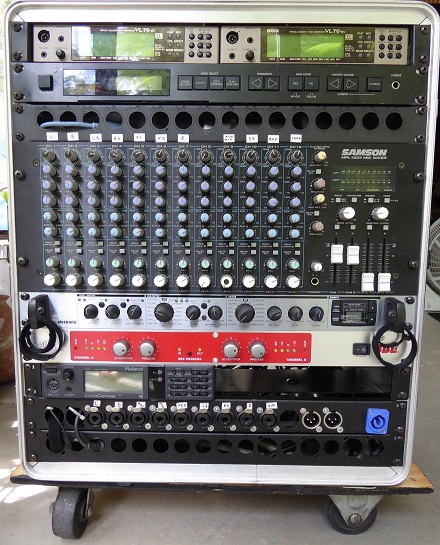 And from the back, all the wires are tagged for those very rare occasions where a piece has to be replaced for servicing.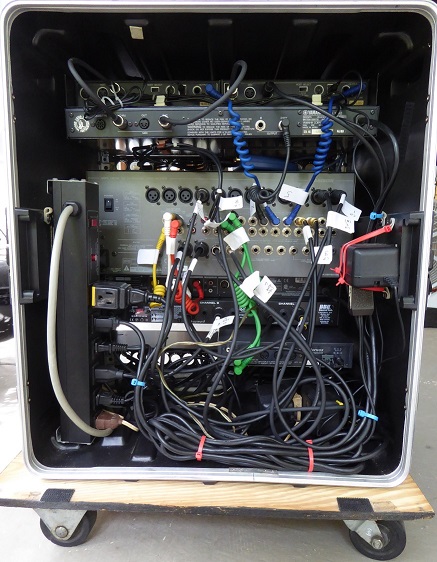 The new speakers are Carvin PM15A's and they sound great.
Insights and incites by Notes