Hi Harmony Central Friends...
I know a lot of members post updates on what they're doing lately, so here's mine...
Though I'm a musician, I've also been a very dedicated community activist for many years, in my neighborhood of East Hollywood in Los Angeles, CA. Several weeks ago, I formally filed as a candidate for Los Angeles City Council, in the 13th District seat for the March 5, 2013 City elections.
Now...before you guys kick me off to the Political forum, I just need to clarify that L.A. City offices are
non-partisan
, and I'm not running on any particular ideological platform. I actually am totally not interested in running for a partisan office. It doesn't matter what party you're affiliated with, everyone wants a cleaner, more connected community, and better City services, right? I'm also born and raised in my district, and have a lifelong connection to its various culturally diverse communities.
Doing this endeavor means I'm not really playing with my band as much (though there are some fundraiser events that might allow that to happen). But as a musician, and as an artist in general, I think music, or at least creativity, will play a large role in my campaign. My district, which runs from Hollywood to Silver Lake to Echo Park to Atwater Village, has a huge arts community, and I want to engage them more in local issues, and use their creative energy to solve many of the City's problems.
Here's a map of my district: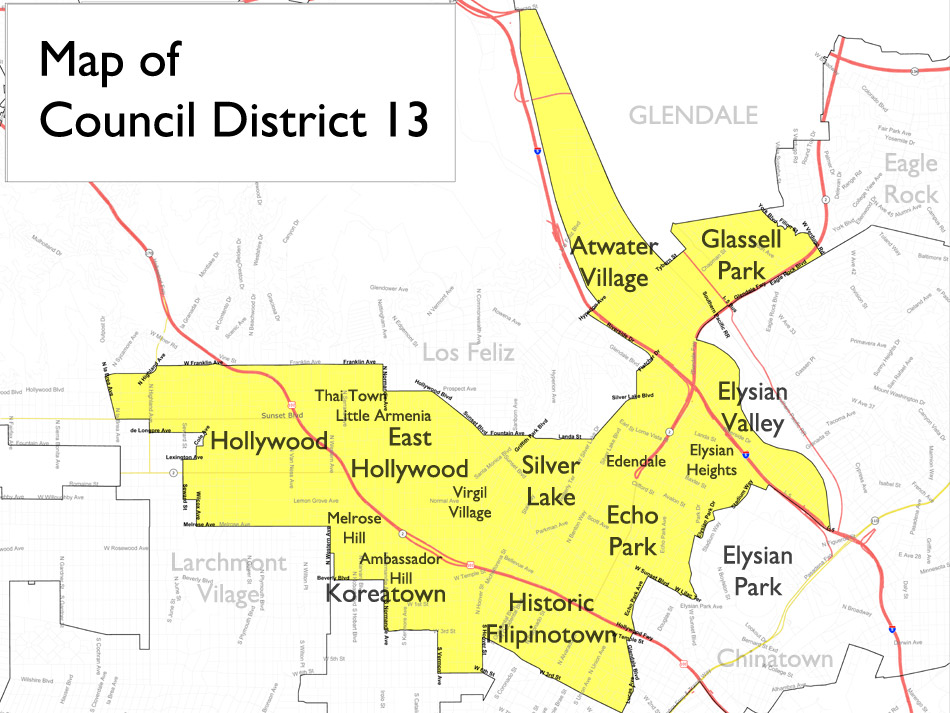 I know very few of you here might live there, but I do have a few supporters here on HC, namely UstadKhanAli (aka Ken Lee), who's my official campaign photographer and Jeff da Weasel (aka Zak Claxton), who gives me messages of support on Facebook
. If you wanna support me but can't vote, you can help my campaign out by giving a generous campaign contribution (via
my website
- US residents only)
And if you do live in my district, I wanna hear from you!
BTW my campaign website is here:
www.elsontrinidad.com
Facebook:
https://www.facebook.com/elsontrinidadforcd13
Twitter:
https://twitter.com/elsonforcd13
Wish me luck! Let's rock this!
Elson