Seagull M6 Gloss (Spruce) - $350 shipped
The guitar is in dead mint condition aside from a small ding on the neck near the neck heel. Otherwise, it looks brand new; it's been played only a handfull of times for maybe a few hours total. The action is low and very comfortable. Couple the low action with the shorter scale (24.84"), and you've got a guitar that plays very easily. The neck is also slighter wider than a standard acoustic neck with a 1 13/16" nut (versus a 1 11/16" nut that is more common). I find that this larger string spread is very comfortable and is especially nice for fingerpicking.
Tonewise, it is very sweet and mellow (especially on the bottom end), yet has a very crisp top end. It has a more unique sound that falls probably between a Martin and a Taylor. Once it ages more, it should be very full and detailed. Right now, the Seagull has a relativey new set of D'Addario 80/20 light strings (12's) on it. The guitar will come with the case pictured; the case has some scuffs and a few dings, but looks pretty nice overall.
I have added and installed a Colossi bone saddle to the guitar. After playing it a bit and changing the strings, I've decided that it gives the guitar a bit more clarity, a bit more volume, a bit more depth, and a bit more warmth. I find it to be a worthy upgrade. I will also include the stock Tusq saddle. The pictures are pre-bone saddle; I'll get some mroe with the bone saddle.
Specs:
Solid spruce top
Laminate (a three layer combo of mahogany/wild cherry/mahogany) sides and back
1 13/16" nut
24.84" neck scale
16" radius fingerboard
Rosewood fingerboard/bridge
Mahogany neck (with dual-adjust truss rod)
Tusq nut/saddle
Genuine lacquer (nitro?); thin, but high gloss finish (the neck is satin finished)
Check out the very positive reviews as well as information from Seagulls site.
http://www.seagullguitars.com/intro.htm
http://www.harmony-central.com/Guitar/Data4/Seagull/M6_Gloss____Mahogany___Spruce_Acoustic-1.html
These retail for $480 without a case, so I feel that this is a pretty good deal for one in practically new condition with a HSC and a Colossi bone saddle.
Paypal is preferred, but you'll need to have a confirmed account (and be willing to sign for the guitar when it is delivered). I also gladly take Postal Money Orders.
Email/PM me if interested.
Here are some pics of the Seagull M6 Gloss (click the link for the others):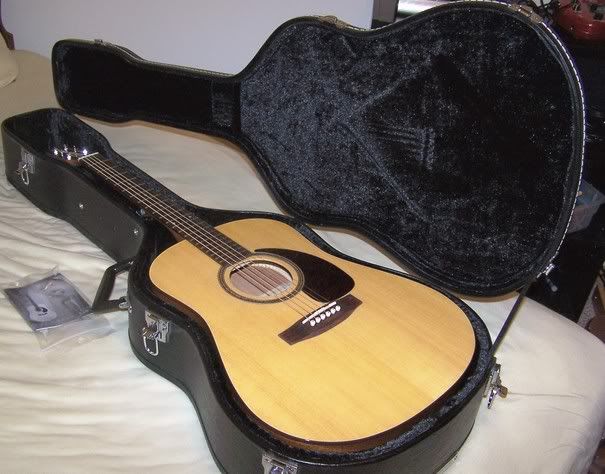 http://s3.photobucket.com/albums/y69/atomheartmother8888/Seagull%20M6%20Gloss/?sc=1&multi=13&addtype=local&media=image