You may remember this axe, we witnessed its birth (
http://acapella.harmony-central.com/showthread.php?t=2510799
).
I was smitten then, and when it popped up on CL I had to check it out.
Got to meet Ken Currie (aka Rose Pickups) for the first time, which was great; had been looking forward to that for a while. Cool to get his perspective on building a business in the world of gear; really impressed with the path he's forging. Got to see his pup winding set-up, too - very nice!
Anyway, Ken was selling off the first of the New Dawn prototypes; we'll call them Greenie, Creamie, and Woodie (see birth thread for more info and photos). Somebody had picked up Creamie earlier, the remaining two beckoned. Truth be told, I had eyes only for Greenie. The look totally slays me, I'm helpless before it.
Ken sensed that I was in trouble, and to his credit he pointed out the many (many) imperfections of Greenie. The factory made loads of mistakes, mostly in the domain of fit and finish, and most of them are immediately obvious to the experienced eye. They'd piss off many guitarists, I'm sure, not just perfectionists. But for me this stuff is in the noise. I love the overall look. The fundamentals are rock solid (with one exception...). The neck feels great; thinner than my ideal but pretty close, and very fast (they got that part of the finish exactly right). The pups are complex yet articulate. Warts and all, that axe had to come home with me.
OK, enough blather - you're here for the pron, let's bring it on!
Here are some images from Ken, as posted to the birth thread: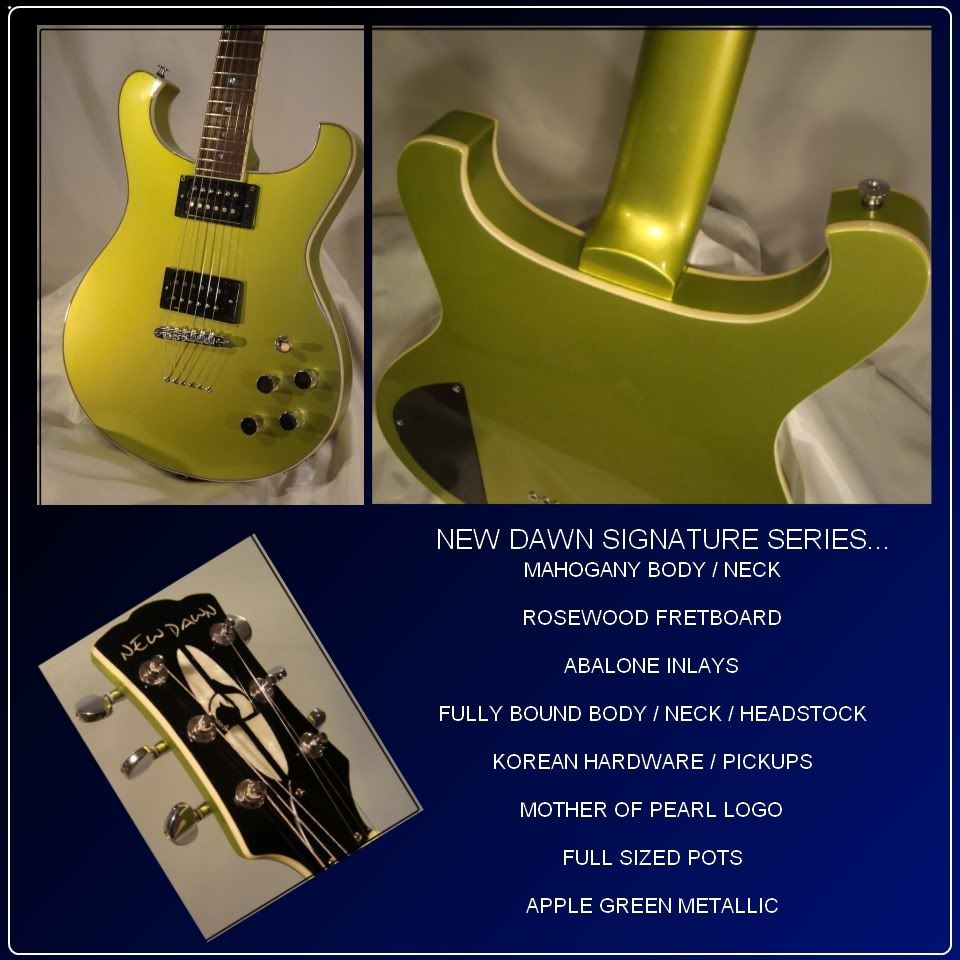 24.75" scale, 2 piece mahogany body.
By the time the guitar hit CL several mods had been made: "Korean pickups" were replaced with Rose Hybrid Tea pickups (43 AWG heavy formvar coated wire hand-wound with Alcino V longbar magnet); lower knobs were replaced with switches for coil-tapping; upper knobs (master vol, master tone) were replaced with speed knobs; and mini-pots had been installed.
Here's the guitar I brought home: