Actually I've had this Dobro Hound Dog for about 2 weeks, but I wanted to install the Lace Sensor Resonator pick-up before posting on HCEG. It just arrived from MF after being stuck in the snow in Kansas for a week. Nothing was moving.
The Hound Dog is made in the Epiphone factory. After playing a few resos in the $300 to $500 price range I liked the sound of this one the best. They actually had one at my local Sam Ash, and I had a coupon for $50 off. The body is a maple laminate making it sound a bit brighter than other wood body resos I've played.
The Lace Sensor Resonator pick-up is the best reso pup I've tried. They really pick up the sound of the resonator well. And hey! Dylan uses one!
I've used them before. The suggested way to install them is with double sided sticky foam tape and the wire is meant to dangle down on the outside and wrap around the end-pin. There's an input jack on the end of the cable. The problem I've encountered is that it doesn't take very long for the connection right at the pup to go bad from the constant motion. There's really no way to fix it, do to the epoxy at the connection. So I decided for a more permanent mount. This involved drilling a couple of holes and running the wire inside. I didn't bother with volume or tone controls, but I might add them later. For now I just run it through a Fish and Chips EQ pedal. Lots of control that way.
My Two Hound Dogs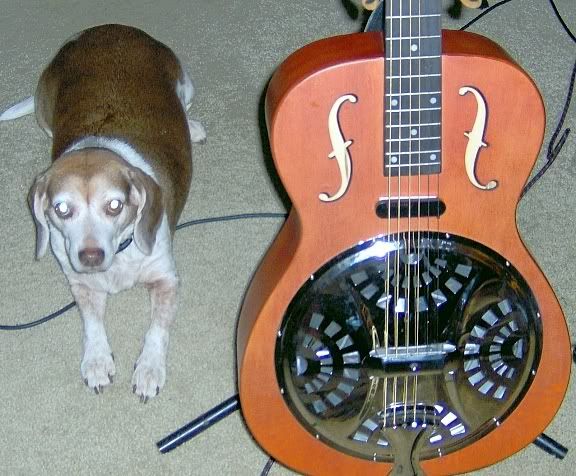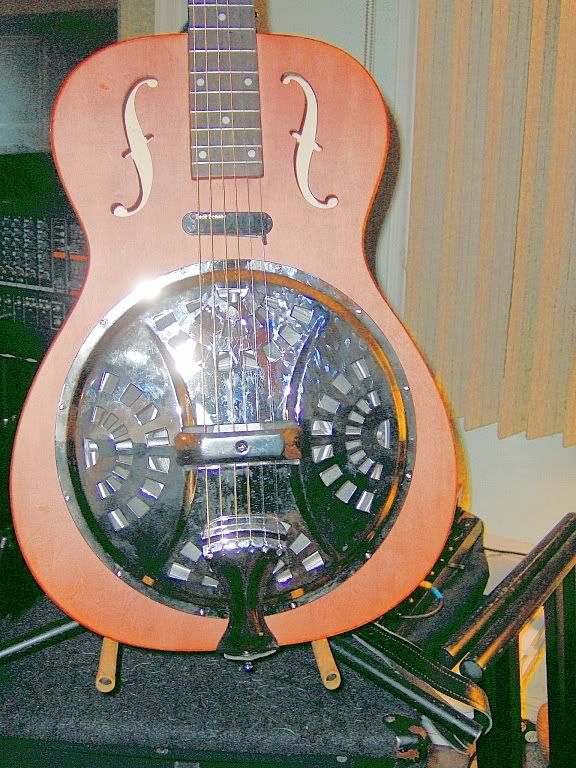 P.S. Yes I know the pup is slightly crooked. I can fix that.