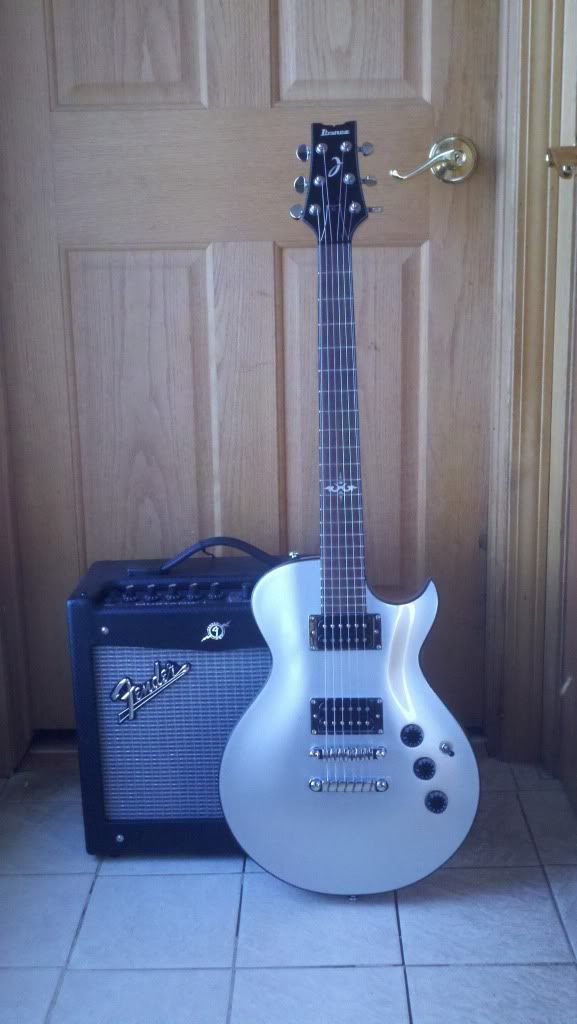 Been out of the game for about five years, so when the itch started I shopped around quite a bit and played every guitar I could find until one spoke to me. Was planning on an Xaviere Tele or Strat, but couldn't bond with anything I planned in stores and didn't think I'd bond with one in the mail. I was digging the Gibson SG Classic with P90's, which was about five times my budget, and a couple Epiphone Les Pauls were fun to play, although they were expensive and heavy as bricks.
Pretty happy for $210. Really dig the color, metallic silver with black binding and chrome hardware.
Mahogany body and neck (set neck), 24.75" scale, dual humbuckers, single-cutaway, much like a Les Paul. But the control layout is more to my liking (I prefer two knobs), and it's much thinner for lighter weight and balance. I had a Gibson LP Studio for many years that was just a huge hunk of wood and was pretty heavy and muddy sounding. Also love that it has a contoured back like a Strat for comfortable playing while sitting. Nice wide neck too.
Played fairly well but had to raise up the bridge to get rid of some buzzing. After I got her home, I removed the strings, tightened up the loose tuners and screws that were causing some buzzing, polished all the frets, cleaned up all around, and put on some 10-52's. Needs a bit of truss rod tweak to get rid of a little buzz on those first few frets (like most LP's), otherwise she plays like butter now.
Pickups are surprising for this price. Usually with sub-$500 guitars the humbuckers are muddy and unusable, but the bridge has some good bite to it and the two pickups together have nice clarity to them. I'm considering putting some GFS pickups in, likely a Dream 90 neck and Dream 180 bridge. I love P90's in mahogany guitars but also like some sparkle and a humbucker in the bridge position for fatter rhythm with gain. The pickups are cheap enough I could try the Dream combo and if it doesn't work out swap for Mean 90's.
Hardware seems solid enough. Tuners are also surprisingly good, might want to replace them down the line, but they don't seem to slip. Nut is cut well. Bridge/tailpiece are weird...I'm used to the TOM style, and this has big grooves rather than exposed saddles. On the plus side it doesn't dig into your hand and has an interesting look, but you lose some control with palm mutes because you can't get right to the break of the saddle.
Also got a Mustang I a couple months back, really dig this amp. First modeling device that's really sounded and felt great to my ears. As much as I would love an honest to goodness Bassman or Matchless, for $100 you can't go wrong for a home amp.