Well, after snatching it up for $600 with discount at GC over the phone, the wait is over, it's here!!
The color is actually a deeper red than that, it's almost identical to the official Gibson picture: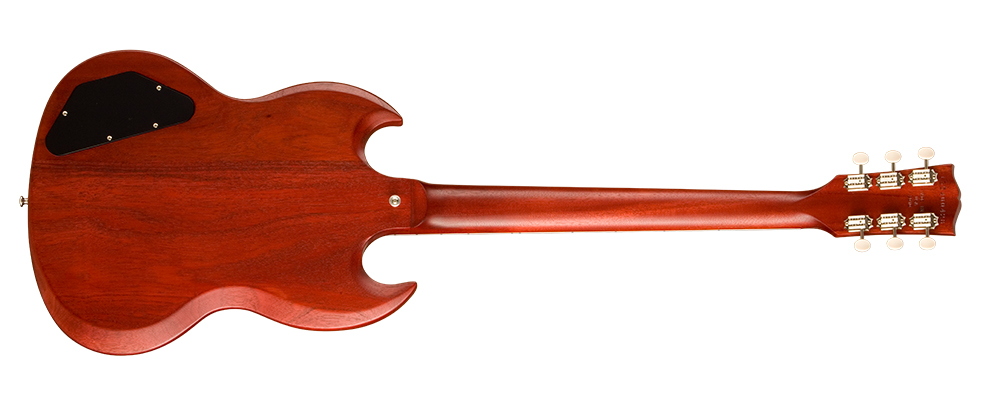 Overall impressions: this guitar SMOKES! It's my first ever guitar with P-90s, and it sounds superb. I recently tried a standard SG classic at GC, through a Tiny Terror and got instant Live at Leeds sound - mine sounds different, however.
The pickups are likely hotter than my guitar with a SD Custom 5 in the bridge - with my Marshall plexi reissue on 9
0 it was already breaking up, but the pickups are super responsive, play lightly and they have a great chiming clean sound, ditto with the guitar volume rolled back. Volume halfway up, it gets a great late 60s blues rock/hard rock sound. I thought I could maybe get the who sound out of it, but no such luck - perhaps a Tiny Terror sounds more like a Hiwatt. Volume up all the way, and this is a hard rock riff monster. Instant Black Sabbath first two albums - NAILS the Paranoid and War Pigs tone, and random power chord riffs just sounded immense - HUGE, furry, deep sounding, yet articulate at the same time. I LOVE IT. Maybe it's just NGD shock but this may be the best sounding guitar I have. What's cool is that so few people that I listen to played P-90s (Pete and Tony come to mind but that's it), that unless I'm playing Who or Sabbath riffs, it's a very original sounding tone. Another plus, rolling the guitar volume down does not muddy the tone at all, I've had some issues with this on my other guitars and it's nice to have a clear sound at low volumes.
Playability: Really really nice. I guess the Plek thing works. The action is super low so there's a bit of buzz, but it's lower than I like so I'll probably raise it a bit. It plays hella fast though. The neck seems thinner than the SG Classic I played at GC, and thinner than a VOS R0 I also played there. I'd put it on par with a newer strat neck, I guess.
Cosmetics: Well, this is where Gibson usually screws up, and while they didn't do too badly it's not perfect. So as I said the color is more like the official Gibson picture, which is nice. I don't like the bright cherry of the glossy SGs. I've not had much experience with Gibson's faded guitars, but damn, it's like they didn't use any grain filler at all. I can feel and see all the open pores:
Obviously in real life it doesn't look as extreme as these macro shots, but I was expecting something more like Fender's Highway 1 finishes, which are still solid. On this you can feel the grain. Not sure how I feel about that.
The other issue is the binding - it's great almost all the way around the neck, with fret edge binding too. HOWEVER, on the low E side, between the nut and the 3rd fret, the binding is sort of hollowed out - it's an even thickness everwhere else, but is thinner there, so the neck wood sticks out slightly. It's especially bad in the space between the first and second frets:
It doesn't really affect playability, but it's annoying knowing it's there. I guess there's nothing I can do about it right? Kind of absurd to ask for an exchange for such a minor issue, when the sound and playability are great, right/
Overall, other than the binding thing, I'm very happy. Ultimately a guitar is about sound and feel, and this wins on both fronts. Not bad for $600!
PS - if anybody knows how I can get a more solid feeling finish/fill the pores, that would be great - maybe some kind of wax? I hand-buffed my Highway 1 a few years back with Meguiar's polish and now it has a beautifully subtle shine, but I don't think that'll be possible on this.