So this is actually how this thing went down. In a moment of weakness (think beautiful guitar) I posted a Craigslist ad (about 2
0 AM) listing an amp I seldom used and mistakenly thought I could do without. It was a Peavey Delta Blues and by about 11
0 AM the next day (before I could change my mind) it was gone, but I had cash in hand. Well the guitar I'd gassed for (HP Special) seemed still beyond my reach money wise so I researched and came up with the Firenza JX which seemed like the great lost sleeper deal on paper and it has a Basswood body, something none of my other guitars have. All I can say is good luck finding one of these rare birds, and time was ticking down; my wife was hip and found out I had some extra dosh.
Had to work fast. Thought I had the perfect plug and play Studio set-up with my recently acquired DOD Juice It (replaced a Crate XTR that was not loud enough) along with my Hybrid Musicman 65RD112, BUT (a really big but to quote Pee Wee) I'd always wanted a Peavey Bandit (the ultimate low maintenance budget amp) ever since I first saw WC Clark gig with one. So I googled it, found the GC Used dept. found a four star Red Stripe 100 Watter for the low price of 89.99 in Bloomington Ind. (all the other Red Stripes were in the two to three hundred range, no lie). Called the manager, placed my order, forked over some of the loot to my wife (about $130 with tax, S&H, and extended warranty). Got it, very cool amp with no issues - even came with the foot pedal (didn't work with the Peavey but opened up a whole new Universe for the DOD).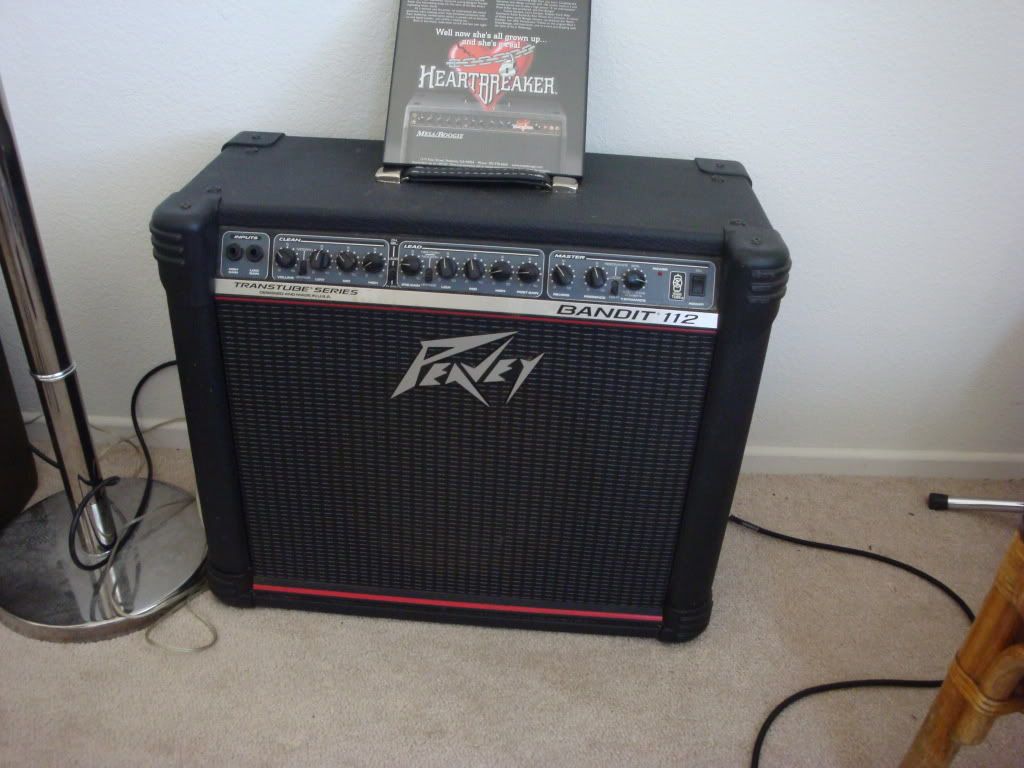 So I get the Bandit and now I've got two SS amps for jamming and one hybrid (Musicman). Now don't get me wrong, the Musicman was a wonderful amp and actually overall sounded more dynamic than the two SS amps I'd recently acquired. BUT (BB again) I had started to miss the all tube warm sound of my Peavey Delta Blues. Self-recriminations had started to creep in. Why would I sell such an incredible amp??? OK, back off, I mean it was heavy as Hell and had no casters first off, secondly, it had no protection for the tubes in the back (needed a tube guard), thirdly, it ran really hot, and lastly the reverb got increasingly hissy as it was turned up. So, I did what I always do in times like these - I window shop.
I did a search on CL for amps and found the usual overpriced, underwhelming stuff. BUT then I saw an amp that started my head spinning. A Mesa Heartbreaker, reduced from 900 to 700 in the span of a couple weeks. Sent the guy an Email asking if he might consider a trade w/ cash. Well, to make a long story just a little bit shorter he would, and after some negotiating back and forth and seeing the incredible pristine condition of the amp (also recently serviced) we made the deal (a deal which ended up costing me the Musicman, an acoustic and an electric and no cash). I honestly couldn't be any happier and I still have a few shillings to get my Pro Junior serviced.
And ya know what? I sure as hell didn't need another guitar. I mean what was I thinking?
But if I hadn't sold the Delta Blues I'd never have gotten a chance to try the Bandit, and I never would have discovered the Mesa Heartbreaker, which is an overall better amp, for my purposes. At this point I'm not missing the Peavey DB or the Musicman.