So I spent a little time on the booger today.
First I pulled all the tubes, after doing so I noticed that those UGLY "chrome" grill pieces could be removed.
So I did just that, and I think its a nice improvement. (I actually don't hate looking at it now)
Heres what stock looks like:
And heres after the mod: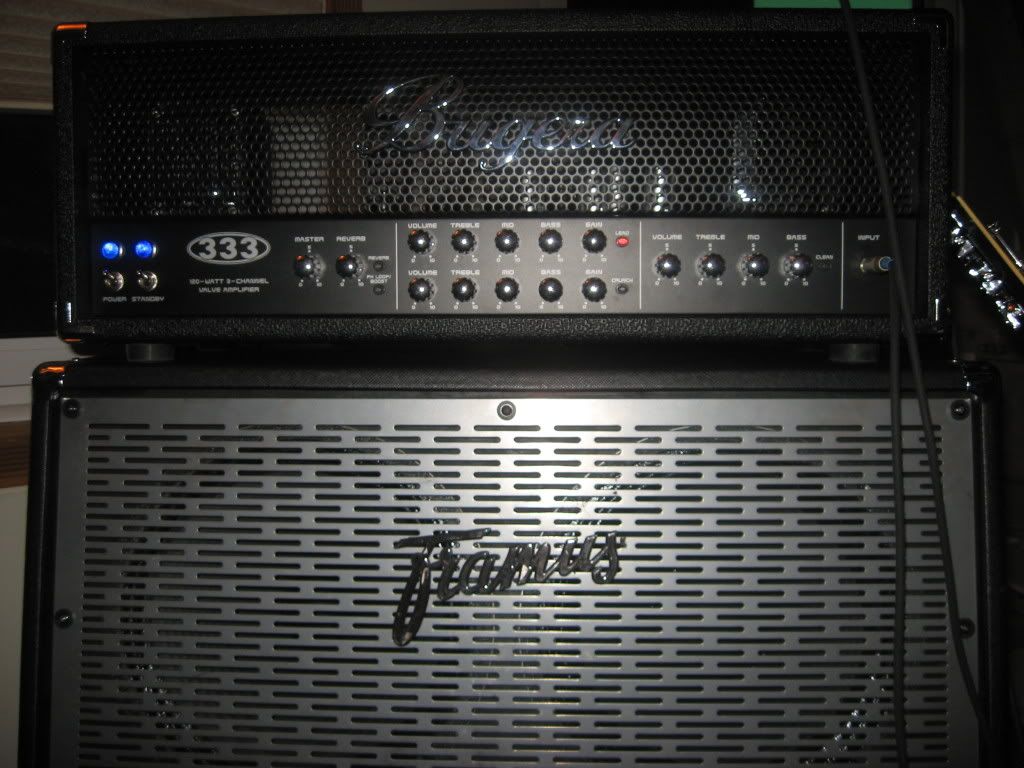 A lot simpler and less flashy = better.
So now onto the tone aspects.
I picked up a quad of JJ 6L6GCs this weekend, along with 2 JAN 12AT7s and 3 Tung Sol 12AX7s.
I threw the AX7s in both the crunch and lead channels and the AT7s in the PI and Clean positions.
The JAN AT7 in the clean position with my set up is just too harsh so I swapped it out for the other AX7 (will probably switch it with a 5751 soon).
I'm honestly amazed at the tonal improvement. Seriously the stock tubes were TERRIBLE in comparison. I was surprised at how much this quieted the amp up. (I wasn't even using my gate)
Quick review
Cleans - A little to gainy, but smoother after pulling the AT7 and putting in the AX7. It could still use some warming but with a little knob tweaking I got a decent amount of good tones from it, I only wish it had a gain control. Not my ideal clean but 100% usuable in live situation.
Crunch - WOW. This channel I would say improved the most. Feels a lot tighter and I can actually push the gain without it saturating into mud. Bite and clarity were definitely improved.
Lead - Quieted down quite a bit, and in a good way. Had to EQ it a bit differently, but with a boost I was VERY happy with it. Probably the best channel on the amp, pinches and naturals seems to come out better after the swap. We'll see if it cuts better tomorrow at practice.
I used my C-1+ with TS-808 and framus cab with V30s & G12T75s.
I DO NOT like EMGs with this amp, they just don't mesh well. (at least not my viper)
Anyway I'm very happy I spent the cash on a retube. Improvement to the point where I'll confidently gig it (the confidence being in the tone, reliability is something only time will tell on this one).
Anyway feel free to flame away, I had an awesome amp day.
Made it better looking and improved tone 100% in only a couple hours. So I'm very happy.