Here the basic schematic of a tweed 5E1 Champ. (the one with a choke)
It's a great base for a lot of modding. The general thought with tweed Champs is that they are a "one-trick pony" Dial it up to 12 (the only way they sound good) and play. No cleans to be had worth mentioning. Ironic because that wasn't what Leo was after. Is it possible to get more tones out of this design without a lot of money?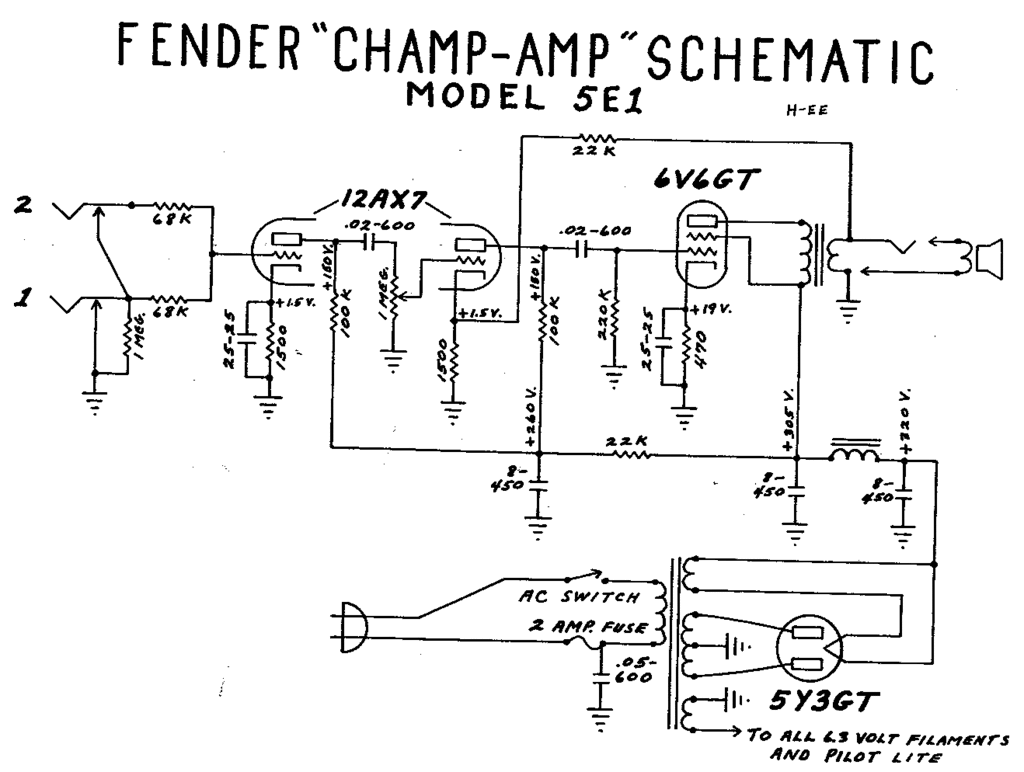 I should mention that besides these 3 mods I replaced the speaker with a 10" Weber. The mods still work with the 8" but a 10" gives you more range. Less boxy which enhances the tone further.
Mod #1 Look at the inputs. Both of them have that same 68K resistor. What's the point in that? The guitar sounds exactly the same through both of them. I want more gain and brightness out of input #1. I'll swap out that 68K resistor for 20K. This allows the signal from the pickup to hit that preamp tube harder. Less resistance means less attenuation of the trebles at lower volumes too. Try other resistors and see what you like. If you reduce it too much you might get too much distortion at lower volumes. Leave the 68K on 2 to keep the original circuit there for the purists.
Mod #2. When you turn down the volume on a Champ, things get muddy. My answer was to put a treble bypass cap across the volume pot. A value around .022 uF (more or less try different ones) works great here. You can even install a little toggle switch to engage or disengage the cap from across the volume pot to toggle between the mod and "stock Champ circuit"
Mod #3. An old trick that some modders like is to do is to eliminate the negative feedback 22K resistor that comes off the speaker here:
Some people disconnect the wire entirely. Others change the value. Leo Fender put it there to tame all the distortion. He was trying to make a cleaner amp. But we might WANT distortion. I decided to replace this resistor with a 10K resistor in series with a 500K audio taper pot. This allows me to dial in lots of different values including the original value. This mod increases treble and acts like a gain control. Works great with the other mods.
Not only do these mods increase versatility and volume, they actually make a simple signal path even less restrictive. For the cost of a resistor, a cap and
a 500K pot you can open up a world of improvement without sacrificing the amps original tones.