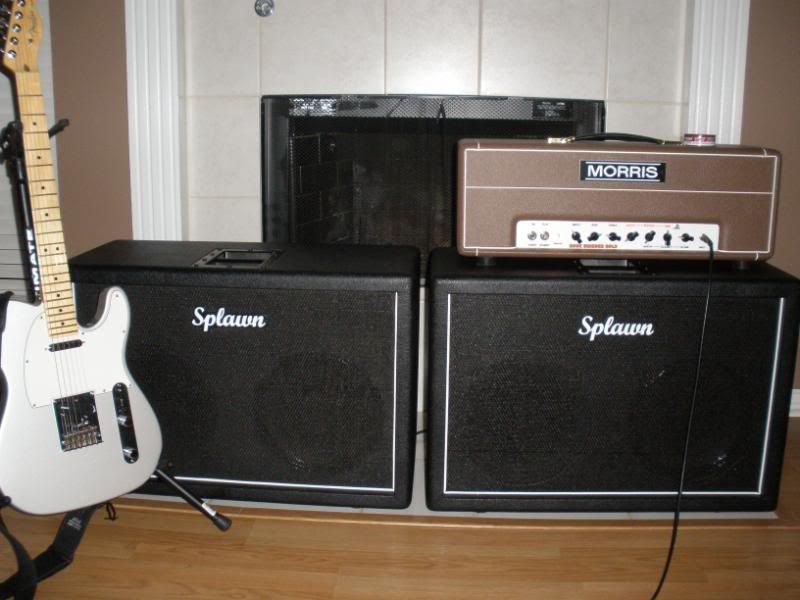 I stopped at GC today to fool around with some amps. I plugged into an Egnater Rebel and it sounded pretty decent (through the Egnater 112). I walked away from it a few times and kept going back to it. In the end, I said what the hell and bought a new one in the box. I'm headed down to Austin next weekend to play a party gig with some of my old band mates from college and I thought it would be a nice compact setup.
When I got it home and plugged it into my Mojo 2x12 with Webers, I was simply blown away. Sounds so much better than the little Eganter cab.
It is a very thick and greasy sounding little amp. Perfect for just about any vintage Marshall sound at low volumes. I was suprised at how much gain it had........albeit loose sounding. I spent about an hour playing old ZZ Top licks. Then I put a Boss OD-3 in front and it pushed it right up to old school metal stuff. However, it isn't going to bring the modern brootz because the gain is just too squishy. And the 6V6 side sounds pretty bad to me. Really flat and woofy under gain. Might be better with my strat but I haven't tried that yet. But it sounds WAAAY better with my humbuckers on full EL84.
I honestly thought I would be disappointed when I brought it home.........but its definately a keeper
I'll try to get some clips up this weekend, I think many of you will be suprised.