So since everyone is posting new gun threads and such i thought id post up my new knife.
Its a Mukti made by Khukuri House
With a Condor Golok for scale on top
In hand: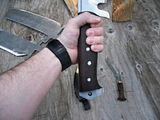 As you can see its a small knife, maybe good for carrying in your pocket every day
Its a fantastic knife that feels
much
lighter than it is and it is by far the best chopping knife ive ever owned, it rivals an axe in cutting ability and possibly a few cheaper chainsaws.
So anyone else into knives on here?