I'm going on vacation this weekend for 3 weeks overseas. I've decided i'm going to take my beloved PRS SE SC white with me (or a sopabar if i get one by then!), and then of course i started planning WHAT i'll be carrying it with.
I was thinking about a hard case.. but it would be very heavy and uncomfortable, and i fear that the airlines might charge me $200 if they'd consider it as a second carry on. I've traveled with a gigbag before and it was great, went right over my carry-on in the overhead compartment.
I wasn't even looking for anything until i coincidentally ran into a small music store in wilkes barre, pa (music a-go-go i think), and they had the coolest looking gigbag. it was small, tight, VERY WELL padded, had everything... AND a built-in marshall 2-channel amp, with gain, headphone out, and mp3 in.. it's like the perfect micro amp.. and i should know, i own and about 5 of them. for $69.99.
I was rushed that day so i couldn't get it and by next day i was back in philly... disappointed. i checked on GC and MF and it was over $100 and no one had it locally.. with my trip approching i made some calls and found a GC in DE by my work that has it in stock.. i called them and they said they have it.. at a discounted price.. for $52 -- tax free!!
I'm so psyched.. it's an awesome gigbag that IMO didn't get the cred it deserved.. oh well, more for me!!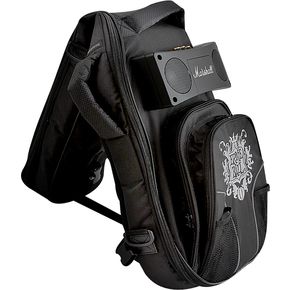 http://theguitarbuzz.com/guitar-gear/ernie-ball-gig-bag-amp/