One of my seven gigs this weekend was at the Palmdale Swap Meet on Sunday morning.
On the first break I wandered around looking at all the stuff people were trying to unload. One stall had a bunch of guitars in various states of disrepair hanging from the walls so I went in.
I saw a balalaika with a price tag of $45. It looked pretty much like this one, except it has "MOSCOW 80" written in red in Russian (which I can read, and speak a little) on the bottom below the bridge.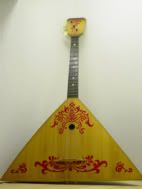 The man in the stall asked me if I was one of the guys playing in the band. I told him I was the guitar player.
"Okay," he said, "for you, $30."
Luckily the band leader had already paid me, so I snagged it. Now all I have to do is figure out how to play it. I checked on the internet and found that the prima balalaika is traditionally tuned E E A, but that some unorthodox players have used different tunings. I'm thinking I might try G B E so I can play it like the top three strings of a guitar. I also learned that the instrument I bought is a cheap model sold to tourists. I'm thinking this balalaika might have some historical significance since 1980 was the year that the USA and several European countries boycotted the Moscow Olympics.
What do you think are my chances of having Terje give me some slide Balalaika lessons over the internet?