Many of you have known me to post here for a long time. My participation weaves in and out depending on my work/gig/personal schedule. Lately I've been on here alot however the month of October I was down for the count a few weeks. What I didn't share with anyone here (but I don't mind sharing now) is that I had a pretty serious health emergency in October that affected my immediate future with my band, my job and well... everything. I won't go into gross details of what happened but I'll give an overview: After several months of not digesting anything well I had a colonoscopy on Oct 5th. Immediately after the proceedure I was diagnosed with stage IIIC Colon cancer. Surgery immediately followed and I spent 7 days in the hospital recovering from colon resection surgery and the last 6 weeks on bed rest... but I still made it out to two gigs.
Although my recovery from the surgery is fine I've already started chemo, and will have 12 treatments over the next six months.
So why am I sharing all of this with you? A bunch of semi-complete strangers? Well this story does have some relevance... because it's forced me to decide the future I have with my band and to create a plan for me to return without pressuring myself or my bandmates. If I even choose to return I have a wonderful plan.
I'm sure the first obvious question is... what happened to the band after I dropped out suddenly? We have a pretty heavy gig and travel schedule. Over the last 6 weeks we've had 9 shows. When I recieved news... played my two last gigs before surgery, and missed every gig from Oct 17th and onward. I've been lucky, fortunate (and smart) that I've had a reliable sub. It's been neccesary for me to have a sub to compensate for dates that conflict with my day job. Of 80 gigs a year I miss 5-10. A sub is a tricky thing with my band an a HUGE committment. Because a majority of our setlist is keyboard dependent and most of the songs are encapsulated in long, never ending medley's, it's not as simple as me just handing a player a list of songs. I have to provide live recordings of rehearsals and shows for them to rehearse to. So for three years now I've been regularly recording shows and practices... archiving them, and uploading to a master rehearsal web page... so any sub, be it drums, guitar... you name it, can get their bearings before showing up to band rehearsal. Most times I can tell my sub far in advance of the shows he needs to recover and give him links to new and old material to review. In this case I was very fortunate that he had just filled in for me less than one month before. We hadn't changed or added any new material. I literally called him right after I had a CAT Scan and the call went like this:
"Hey Richie... remember when I said I may have a few more shows for you to cover this fall... how would you feel about filling in the rest of the year? The first show is in 10 days!"
Of course... in my head I was hoping I'd make it back to regular gigging by December. I asked my surgeon whether gigging was possible and he looked at me like I was crazy. But he didn't say 'no or yes'. He said 'use your best judgement.' NEVER tell a musician that! The surgery itself was brutal, yet my recovery has been nothing short of remarkable. So remarkable they moved my first chemo treatment from late December to just two weeks ago. The chemo was everything I expected... immediately unpleasant, and it really told me what I refused to think... I'm an idiot if I think I could recover and keep up with an active gig schedule. My sub Richie is a great player and likeable guy (like myself) and although I COULD worry about him doing such a good job that my seat will be permanently taken, I'm choosing to think of things a little differently for 2010.
The truth is, as much as I LOVE this band, I really can't keep up with the busy schedule, still work my day job recover from cancer and find plenty of balance in life. I believe that everything happens for a reason and this is a good opportunity for me to leave the band and focus on my health. That's the way my thought process was headed... until my first unofficial appearance last Wednesday night. I told my bandmates and Richie I wanted to 'sit-in' for a few songs on Thanksgiving Eve and of course they welcomed it with open arms. However when I started talking to Richie about songs we could split we came up with a grand idea. I would bring a smaller rig out and we would share/split and shadow parts together... after all we both know the material like the back of our hands. So that's exactly what we did... setup two keyboard rigs side by side, and quarterbacked songs, split parts all night. Not only did it feel great... it sounded f**king phenomenal. Like a national touring act. On many songs I just let him cover the parts as I layered pedal tones, doubled parts and played subtle phrasings.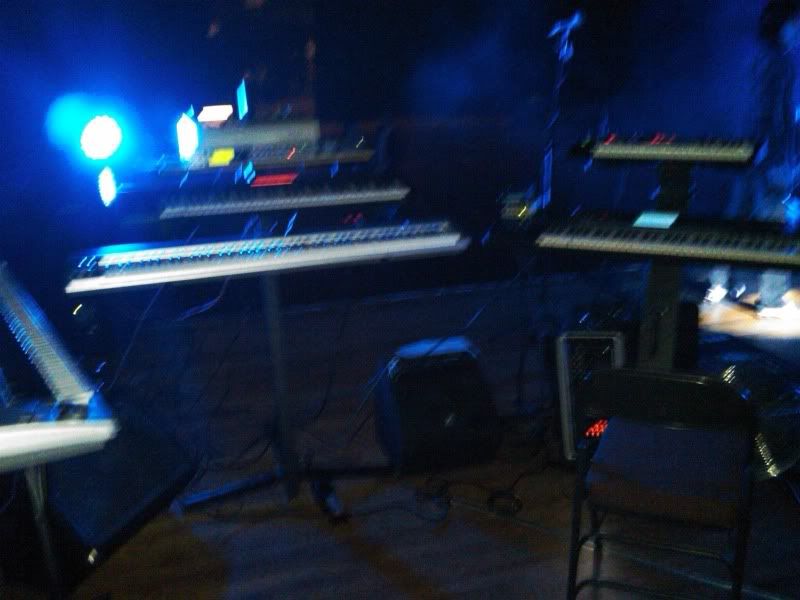 (Setup for the Halloween Show... one week out of surgery-bandmates setup and took down my gear)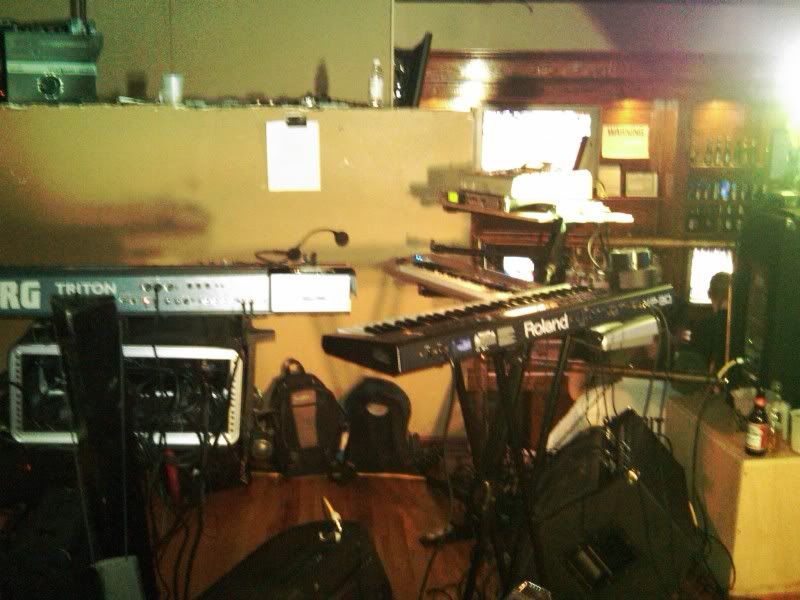 (Setup for last Wednesday. )
So over the weekend I spoke with my bandmates and with Richie on a wonderful plan for 2010. We're going to split and share gigs for 2010... at least the first half and consider having two keyboard/rhythm guitar players and keeping the arrangement going forward if everyone agrees. He may cover half of the month and I may cover the other half. We'll see how I feel on the chemo and take things month to month. On big shows where we have the space for the setup we'll both setup rigs and split and share material. Richie of course wouldn't be receiving full pay for shows, and I would volunteer to take a hit on shows we both play together. I can't ask my bandmates to take a hit on pay while I'm in recovery... but if everyone likes and supports this setup after my full 'return' then we'll make arrangements across the board to up Richie's pay. This arrangement gives me a few freedom's that I can enjoy without worrying about my position or ability to gig again.
#1- I don't have to 'kill' myself trying to gig in Albany, NY on Friday night, gig in Hartford, CT on Saturday night, and be fresh and ready for work come 9am on Monday morning.
#2- I don't have to work so hard arranging keyboard parts... I have someone like minded to collaborate with. (programming is a bitch)
#3- I can spend my off time marketing the band... something I LOVE to do... but rarely have the time.
#4-.. I can in 'shared' gigs bring a downsized rig, laugh, play and enjoy the show... instead of sweating every note as a two armed octopus.
#5- I can still contribute as I always have, onstage and behind the scenes as a full share member...even though I'll be playing half of the shows.
In other words I can keep the band.... make my wife happy (she hates the schedule), manage my life better, and most of all still enjoy what I do and still make decent money doing it.
The only reason this is even possible is because Richie and I get along so well. He respects my seniority and I welcome his collaboration. We might just end up getting a room together.
Just kidding. Seriously... I've had players in the past that were plain dick's to be around. This guy is a pro (he's done studio engineering work on Naz's last album) and a great guy to work with. My bandmates are already counting the days until my return, but also value Richie's recent contributions on newer material. I'm sure we're not the first band to do this but we'll be the first in our area to have two keyboard players and I couldn't be more thrilled. I've always been about 'the show' and having four hands provide back end production to the shows will put us in a category no other band in our market could even reach.
I have some clips from the show below, and not all of it is keyboard related. Still (despite the terrible audio) you can hear how 'full' the band sounds and how we're matching almost original artist production on some songs by having keys parts with background layers. Primarily the first two songs. I suppose we could achieve the same thing with some sequencing or using backing tracks... but that wouldn't be nearly as fun to work with. Remember less to play means we can focus more on the audience... and of course if one gets sick... the other can always cover.
Thanksgiving Eve Video