Morning my KSS minions, today I finished my masterpiece, a 10-minute half soundtrack/half song/half wtf? called "The Elephant Man".
After starting with a dark AMBIENT CREEPY section, we move into JARRING industrial synths before a BIG ASS bassline takes over, the song starts up and moves through some melodic elements before some DISTORTED ASS vocals (ala schizoid man) take over, then IT'S ONNNNN...BIG TRIBAL DRUMS COME CRASHING IN, TO BE TAKEN OVER BY A BIG THWOMMPP BASS AND A MASSIVE PHYRIGIAN RIFF...then it all dies down, there's a nice JOHN WILLIAM'S-ESQUE bit before a big SMASHINGY PUMPKINY style end section, then THE TROMBONES COME IN! and finally, there's a piano outro...
Who the hell WOULDN'T want to listen to it after that vibrant description? What are you waiting for?
http://soundcloud.com/elmosexwhistle/the-elephant-man
also, i photoshopped him wearing gay glasses, that's good for a laugh right?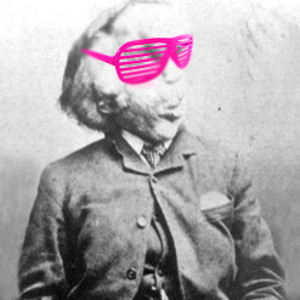 Go listen, and then report back here with any critiques or comments you have
*Unless it isn't.