I am building 5E4-A Fender Super Amp into an old Integrated amp chassis...its gonna be one heavy,HEAVY anp in a compact little package
I have reached another one of those
moments where I can't think of how to make this go forward. I am using a Magnetic Concepts power tranny for 18-20 watt that has this layout:
http://classictone.net/40-18035.pdf
The 5E4 is a fixed bias circuit if I'm not mistaken and Fender amps use a PT that has a seperate lead of the HT winding for the bias circuit. Can I still make this thing fixed bias or am I going to have to go cathode bias with this mama? Also I want to know how to lace in the B+ voltage.Do I just run a wire from pin 8 of the rectifier to the main filter? The way the schematics show this, is one 5volt lead goes to pin 2 then the other 5 volt lead goes straight to the main filter while jumper from pin 8 meets this one mid way.
I am also wanting to know where the middle wire on my OT goes. On the front of it there are the two leads which go to the plates of the power tubes. The middle wire just shows it is, or goes to 8K ohms
When looking at the schematic it seems that this lead also goes to the Filter circuit...hmmm, maybe to get power to the OT?...that only just came to mind. On the schematic it shows this wire also goes to the power tubes but does not specify which pin. I have been finding Fenders schematics very vague about such details when compared to schematics I have from Photofact folders on different amps.
I hope this series of questions is clear, if not let me know and I will try to clarify.
Thanks,Dan
_____________________________-edit-_____________________________
I figure it might be easier if I posted the schematic and layout, since I found them on the web for just such occasions!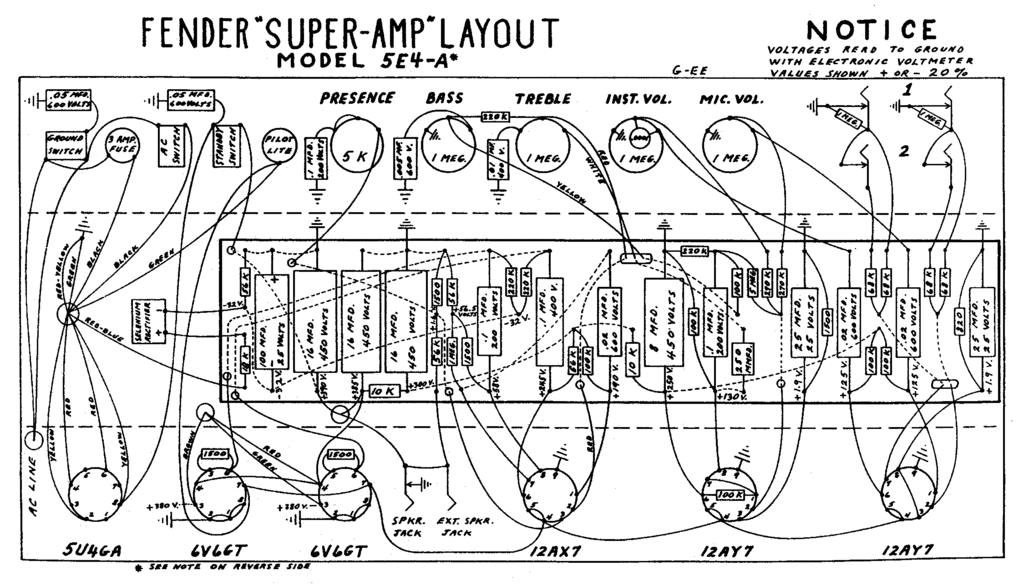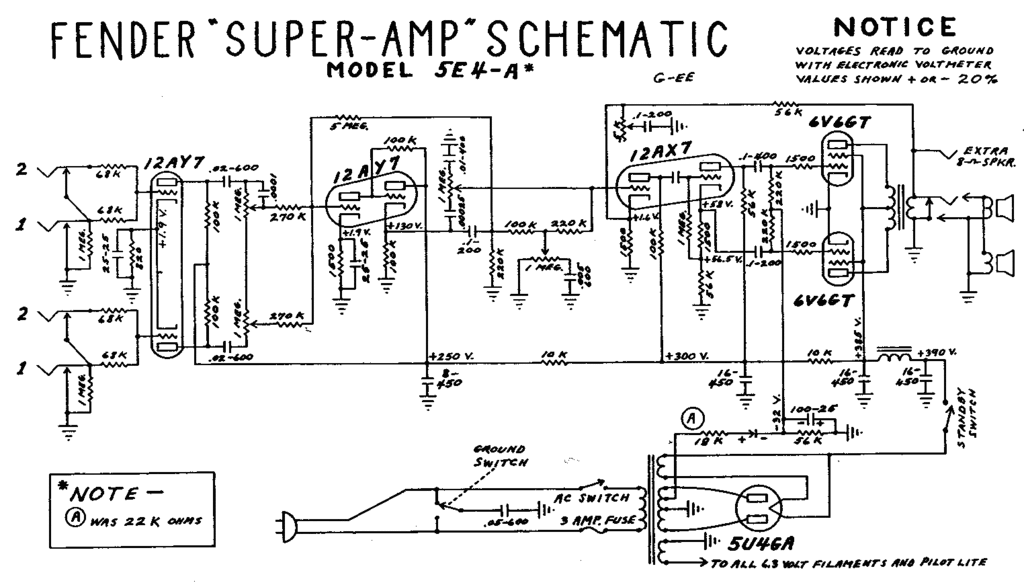 On another note, I am working with a pretty compact chassis and so was only going to use 2 inputs. Is it posseble to blend the two channels so that I can use the side of the 12ax7 that the second set of inputs would otherwise be using?