After the fight of my life, I got the diamonds in, and managed to find a way to get past the impossibility of putting a clear gloss back on sanded-down epoxy. Here's the neck as it sits.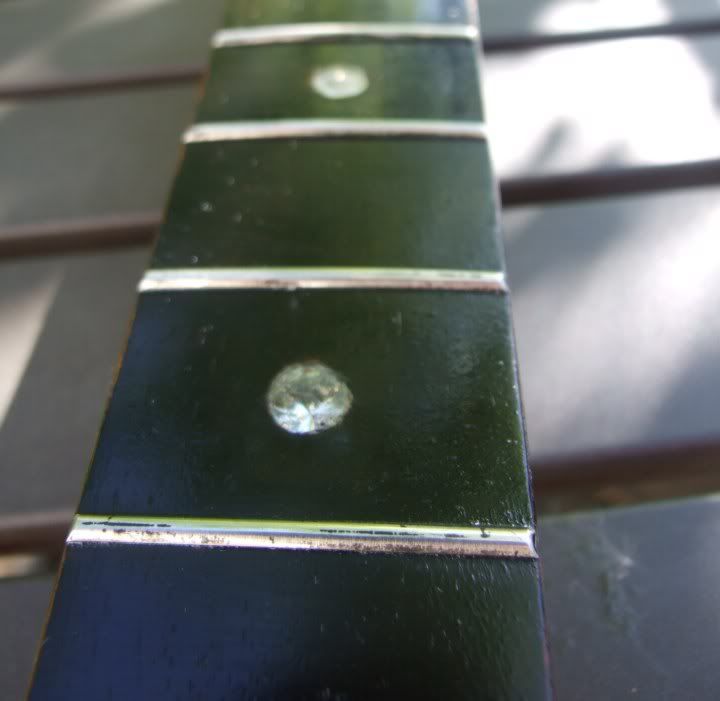 Getting here involved a lot of headaches that are detailed on my AGF thread the insanitarium, but at one point I thought the whole thing was scheduled for a "unfinished guitar project" listing on ebay. Now, not so much.
In other news, the front and back, and neck have begun getting cleared. Used a whole can in multiple mist coats on the neck and body. The headstock got extra coats, I would say equal to about six solid coats, after the misting, so that I can get it properly leveled to receive the waterslides.
Thankfully, NO issues using krylon acrylic clear, over the enamel paint - you just have to be careful by misting, and let the enamel cure for a good two weeks before, (though I admit on the headstock, I gave it maybe a week less than I should, but I had it outside in the heat for a few days too.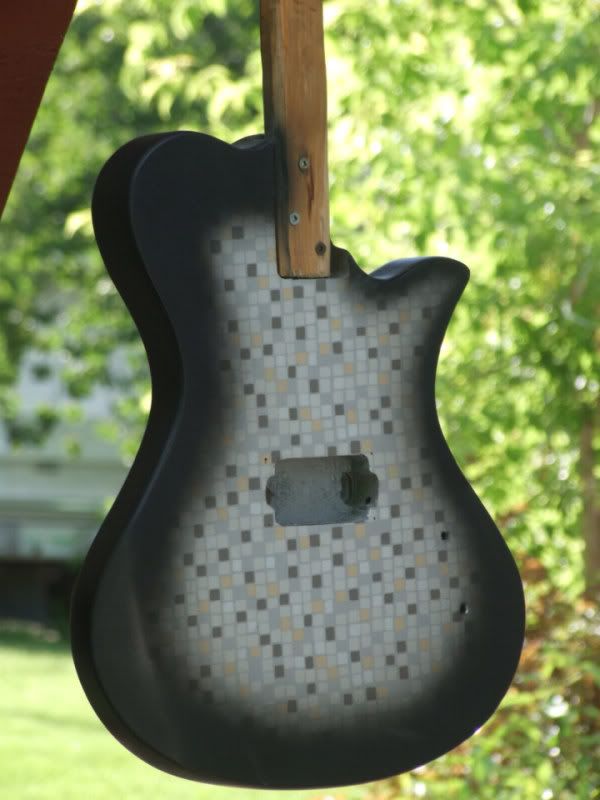 So, despite all the naysayers, and stern warnings and laws of science, religion, and nature - yes, I believe it is entirely possible to use lacquer over enamel. I'm such a rebel. :grin:
Hope to get at the headstock decaling tonight. While that was all curing, (need 48 hours before I continue the clearing process, I was thinking out loud. Originally I bought the Austin DC to make myself a light relic replica of this '59 dc special, but with a wrap. She's a beauty, ain't she?
Man everytime I see that one, the gas fumes overwhelm me! However... I wonder if I need a replica... I really covet guitars that nobody else has, or will ever have.
A couple of weeks ago, I found myself at my fave thrift shop, once again, skulking around the ladies' clothing section. They are beginning to look at me kind of wierd over there! Anyway, I snatched up a pretty blouse, (without even trying it on) for a dollar, stuck it under my trenchcoat, and immediately took it home, drew the curtains, and tried it on... my Austin, of course...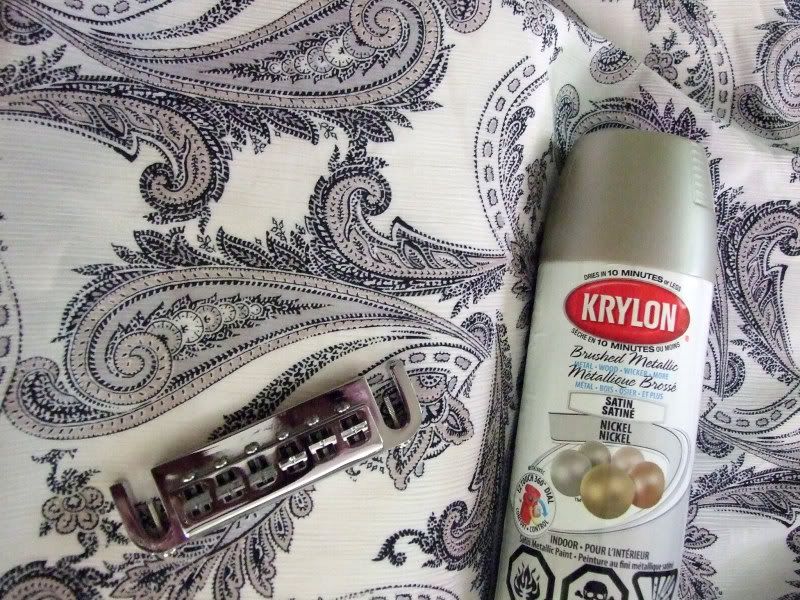 Kind of serendipitous on the similarities on the three above photos, it's like the big guy is trying to tell me something here
I had the can of krylon, and the wrap bridge left over from stuff I bought for the glaminator but didn't use.
I'm thinking I would still do a light relic on the DC, but this fabric is extremely mega-cool. It's got some metallics to it as well, might not show up so good in the photo... That with a metallic burst, paisley headstock and bursted paisley neck, I don't know - I'm still undecided, I also have a tobacco strat that would take this fabric nicely too.
So many ideas. So little time. So goes a modders' life.