Just changed this thread title to better reflect the variety of gear experiments, failures, victories going on in my shop/man cave and elsewhere. I like to have one thread per forum to document my wide-ranging adventures, helps keep me organized.
We first start with my ongoing project on a $45 first act, but then, as my mod-jects tend to do, it will jump around to all manner of other stuff. If it's too much for you to handle, might I recommend solitaire, which can by found by going to start/programs/games/solitaire
first off we begin with a First Act Headstock reshape - a very simple re-branding mod -
Before you ask "Why bother?" this is just one of many small mods on an ME537 I'm refinishing and rebranding. Before you ask, "Why bother?," once again, I'm doing it partially for just for refinishing practice, partially to explore a new technique with paper rather than cloth - much faster finish line, less cloth saturation levelling time...
Will it work? Time will tell. But, I thought some modders out there might like to see a very simple and effective headstock reshape, that takes mere minutes, and is pretty foolproof - try it if you may be turned off by the First Act Pompadour headstock shape. I really wasn't personally, I've seen worse, but I wanted to make this one as much my own as I could.
So, here you go....
remove neck and at least the top tuners. You can leave the nut in.
Trace your headstock face down, on some paper. Take that tracing, and transfer the lower inverse curve to the right side, front of the headstock, nixing the bump by repeating the curve down. You'll need to find the centre of the top of the headstock, and measurement from the nut, to the low end edge, to get it even on the other side. I think in the end I might have been a millimetre off with my centre measurement, but no big deal. Hey. $43 dollar guitar.
glue the paper with regular white glue where it needs to be, and protect the rest of your headstock with a couple layers of masking tape so your jigsaw won't scratch it all to hell.
You need to put tape on the bump as well, to make sure your saw deck will be as level as possible.
Go for it....nice and slow- no hurries, no worries. I clamped my rag protected headstock in a vice, making sure the top of the headstock was sitting level, but above the jaw tops.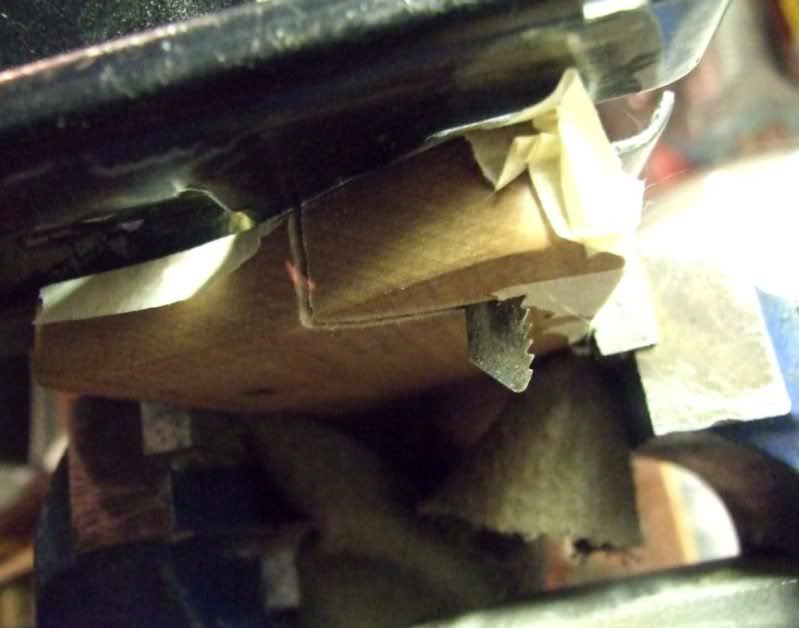 remove tape, rub off the glue with a damp rag, give it a little sandpaper to touch up the edges so they match nicely. You should probably seal the end with satin clear, or sealer. I'll be painting and clearing mine.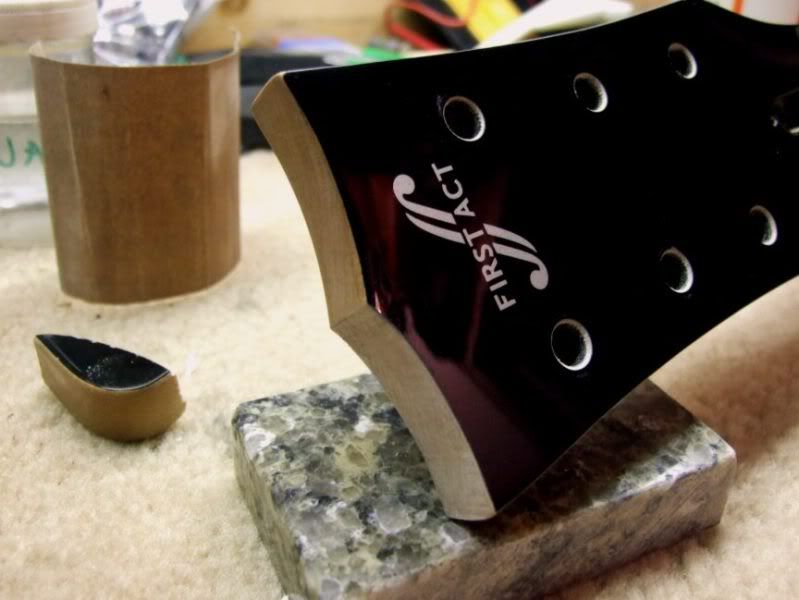 There you go - easy, peasy. Suggests a crown, and doesn't look to bad with the rest of the body shape, in my opinion.