What we have here are Rangemaster style germanium boosts with volume/gain and tone/range controls. These are much more flexible than typical Rangemaster treble boost as the tone/range control allows you to dial in the amount of treble/bass that works with your guitar, amp and sound. In other words, you can get wide range of boost/tone options.
Each pedal has a low leakage NOS black glass OC44 germanium transistor that has been carefully selected for low noise and sonic flavour. Quality componets throughout (Philips caps - metal film resistors - etc) and custom etched enclosures. These pedals come with a one year parts and labor warranty - the owner is responsible for repair shipping costs. These V2 Skullmasters feature new art (each skull is used only once) and slightly different component selections. Each pedal is unique!
SALE!! Save $20!
$140 PPed/Shipped (No trades thanks)
The $140 shipped is good until 12
0 AM on Monday, November 19th!
http://arcaneanalog.bigcartel.com/
Bench shot! Better pics soon.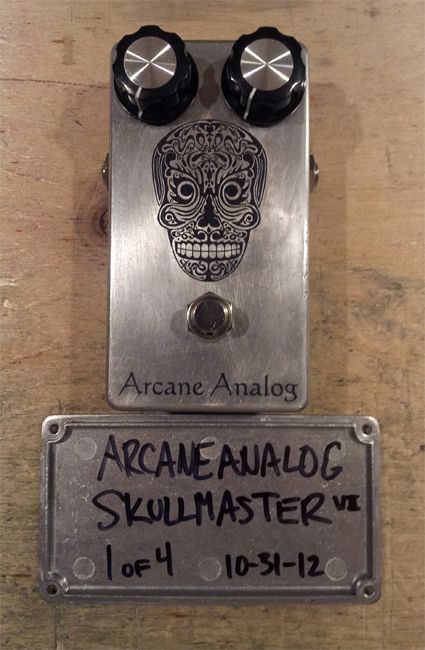 Here is a gutshot from the first run of Skullmasters.