Up for sale is a Fender two-tone Nitro finished Texas Telecaster in MINT cond. Its all stock except for the Black 1-ply Fender pick-guard I added whch I think maks it look KILLER. The original white PG will be included,
The total weight of the Tele is VERY VERY lighjt at 6lbs. I mean this is Custom Shop territory here. And it feels, play, and sounds like CS also. Just a beautifull example of what Fender is capable of doing.
Basically the Texas Tele is a 52RI Telecaster with a modern neck. The neck is a 12 inch radius with Medium Jumbo frets. The profile isna chunky C. The neck plays GREAT and there is not an issue with this neck, perfect fret work, good chunky size, Bone Nut fitted on by me, and a fast playing smooth neck in Maple with a Maple cap. The Hardware is all Vintage USA Fender with Split-Top Tuners, and a 3-Brass Barrel saddle steel bridge Fender stamped. Also a sigle vintage string tree. NOW the BODY. The body is a perfectly grained 2-piece ASH center seamed body. The neck joint is snug and perfect. The Tone transferrence is unreal. I LOVE the stock pick-ups in this Tele and its been the first ASH/maple Tele I have been able to hold on to withjout feelinmg its too bright.
If there wasn't a SPECIFIC STRATOCASTER not made anymore that I'm interested in I would NOT sell this Tele. Its a KEEPER.
NO TRADES Sorry I have a Strat picked out. Pay Pal preffered.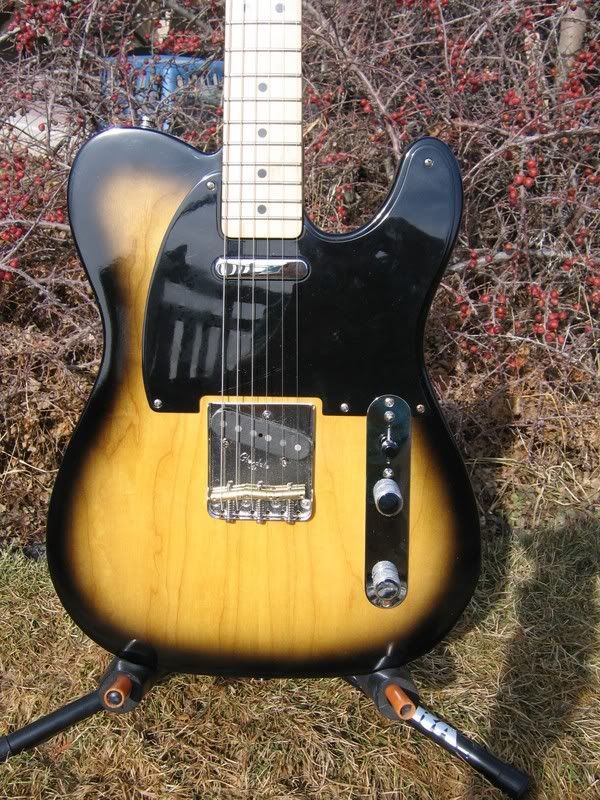 No dings ssratchs, frets are 100% plus I just polished them. Just added new strings. This is a wonderfull Telecaster that impossible to replace. Very nice addition. With a HSC added PRICE $ 650.00 Though the case won't be the ohoto's 08 Fender SKB but will be a new HSC. Or buy it wthout a Hard Shell Case and save $50.00.......................Total $600.00