Hey guys,
As I prepare to finish up high school and enter the working world next year, I've decided to liquidate a fair amount of my guitar collection in order to free up funds for other endeavours. This is the first one I'm listing, and it's definitely one of the coolest axes I've ever come across.
What we have here is a Tom Anderson Drop Top T. It was built August 25th, 2005 and features the following core specs:
-Alder body with KILLER flamed maple top
-Maple neck/fretboard with 22 stainless steel heavy frets
-Tom Anderson locking tuners
-Tom Anderson hardtail bridge
-Tom Anderson pickups (SA1, SA1R, TF3*)
-Electronic setup of a volume, tone, 5 way switch and a blower switch*
-Serial number 08-25-05P
-Weighs in at roughly 8 1/2" pounds
What makes this guitar super cool is that it has a genuine Gene Parsons String Bender installed. This is no cheap Hipshot unit or home-brew job, this is the best in the biz from the guy who designed the unit for Clarance White back in the sixties. It allows for the B string to travel up a whole tone by pulling down on the strap button. It's great for country stuff, but you can use it for anything with practice!
The guitar is finished in Anderson's Burnished Orange Burst and as you can see from the pictures, it's got a really spectacular flamed maple top that is nicely accented with natural binding and a subtle translucent burst on the back and sides. Cosmetically the guitar has a few minor dings/signs of use on the back side of the guitar, as well as some very minor hairline cracks by the string ferrules. There is also a very slight scorch mark by the rear electronics cavity cover.
When I got it, this guitar was loaded with EMGs and had 2 of the original Anderson pickups in the case. I junked those A.S.A.P and reinstalled the original two Anderson single coils (SA1 in the neck, SA1R in the middle) and bought a new Anderson TF3 single coil for the bridge position. The guitar electronics were replaced accordingly with standard passive electronics. It all works A-1 and sounds great! I had the EMG preamp that was in the guitar replaced with a "blower" switch (ala Suhr) which routes the bridge pickup signal straight to the output jack. Just a way cool tone that packs a lot of punch, especially when hit with some grit!
The guitar ships in the original fitted hardshell case. The case has a broken lock on one of the latches... it works fine but you need a key to open it. Otherwise the case is fully functional with only cosmetic road marks from use. I will include two keys with the case in a separate envelope.
Check out the pics here: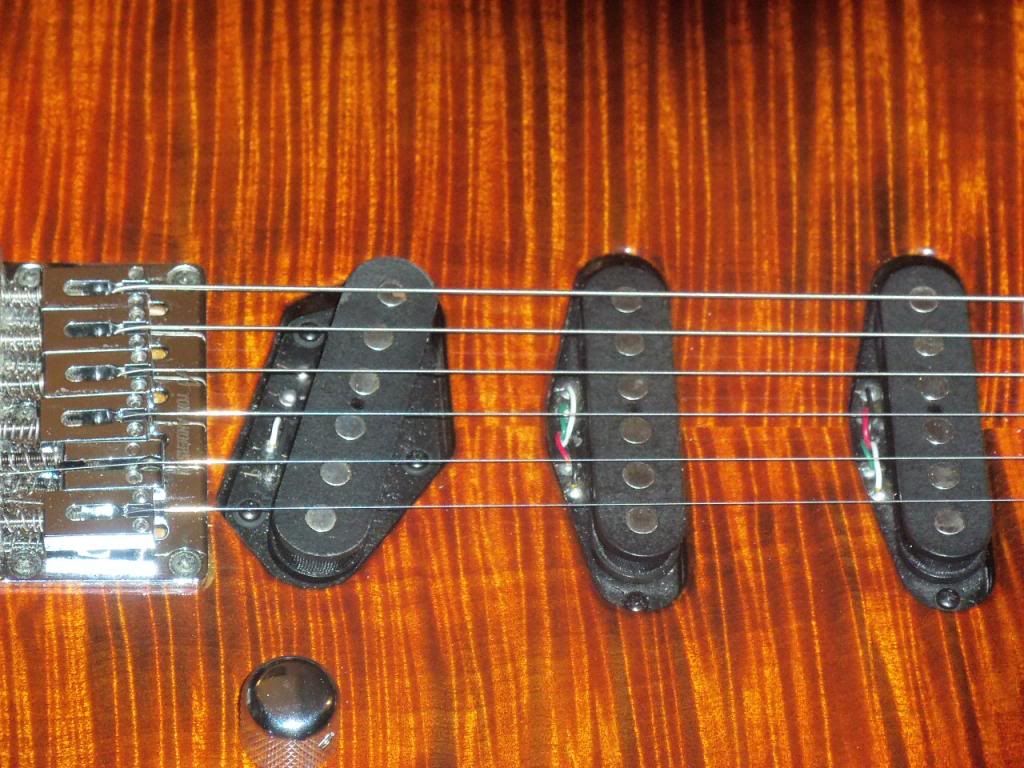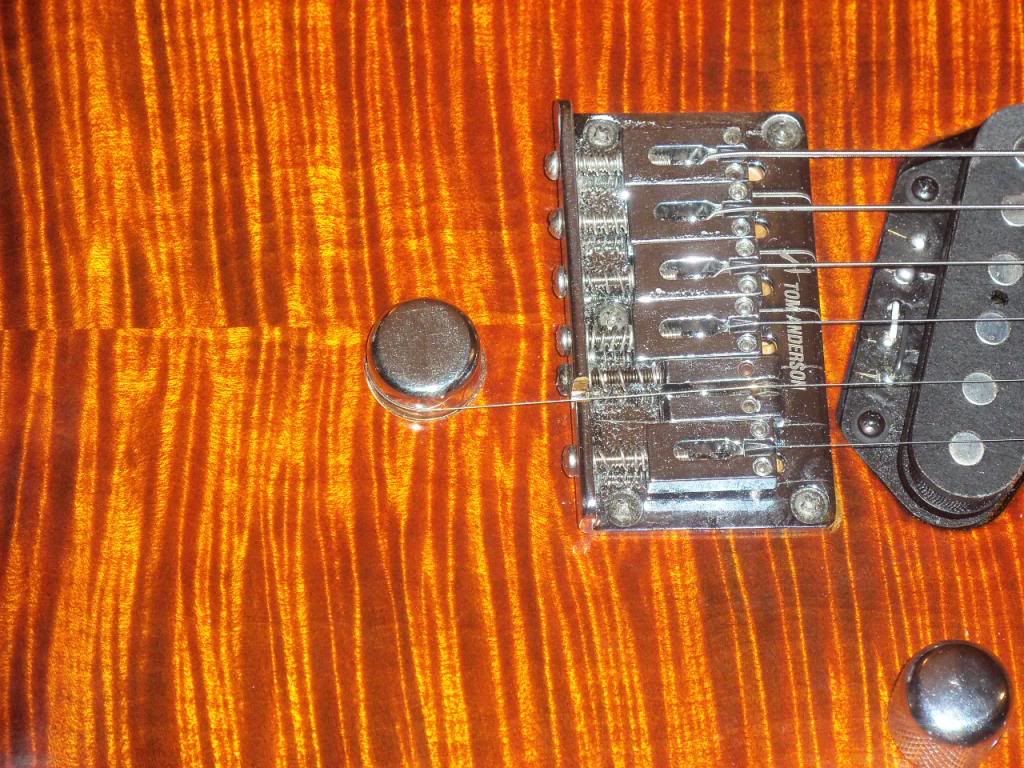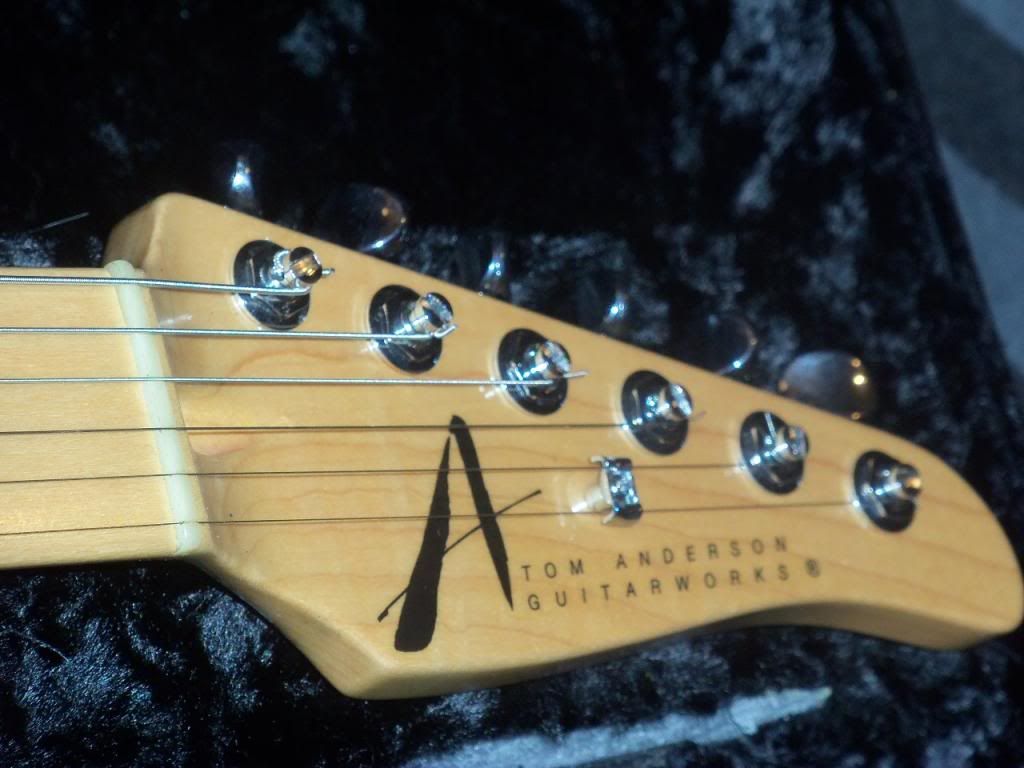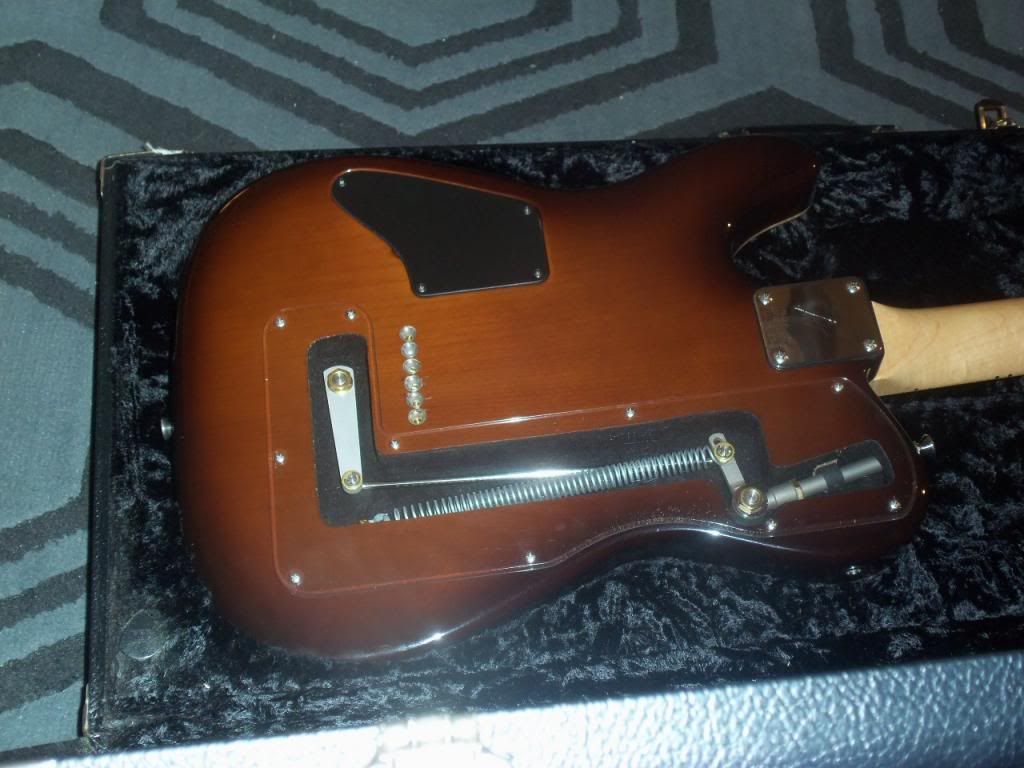 Also, here is a link to a video with the guitar in action. It has that Tele tone in spades, even through my little Zoom effects board.
http://www.youtube.com/watch?v=cM9e20-mmio
The guitar is located in Nova Scotia, CANADA. I will ship anywhere in the world at buyer's expense.
PRICE - $2,650 + shipping. Paypal is fine for payment, but the buyer is responsible for any Paypal fees. Not really into trades unless you're a Canadian resident because having guitars shipped in from the states is a bit of an issue for me for tax reasons. Please feel free to contact me with any questions!
Cheers!
- Will.